Despite not feeling too well at the moment, a cold has gone to my chest, I went to the allotment this morning to take a few photos of the flowers in the allotment garden for my Six on Saturday. I have been spoilt for choice, everything has burst into colour, making it a hard job to select just six.
1. Dahlia 'Ace of Hearts'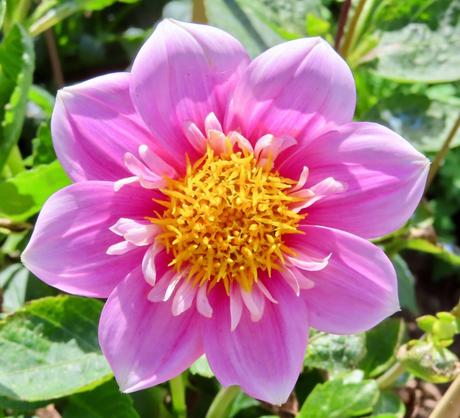 The dahlia bed is coming into its own, half of the plants have burst into flower and the others are in bud. Despite being one of the smallest dahlias I planted 'Ace of Hearts' was the first to flower. It is a collarette dahlia and grows to a height of about 120cms although mine is nowhere near that tall.
2. Another Dahlia – 'Happy Single Flame' (I think!)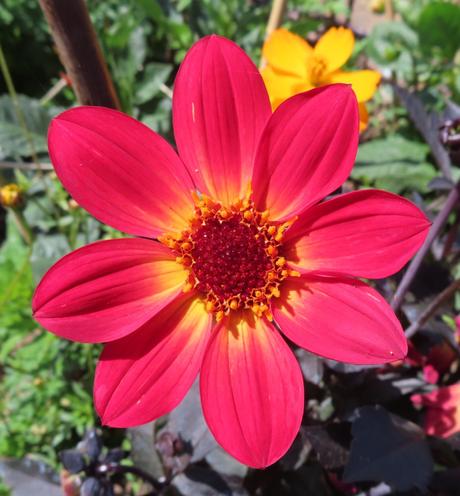 This is yet another of my dahlias that doesn't match its label. I am not sure if the issue is the suppliers, Peter Nyssen and Wilko, or me not being as careful as I thought I was when potting on. One of my Six on Saturday last week was of a dark red wine dahlia labelled 'Bahama Apricot', now it's open it is definitely 'Chat Noir'. This dahlia, bought from Wilko, was labelled 'Sunshine', a favorite of mine. It clearly is not 'Sunshine', which is yellow with an orange inner. After a lengthy Google search, I have found a what I think is a match called 'Happy Single Flame' so wonder if it's a rogue dahlia. It's lovely though so I'm not complaining (too much). I need to go to the allotment and check out all the tags and packets the tubers came in.
3. Day Lily (Hemerocallis) 'Pink Damask'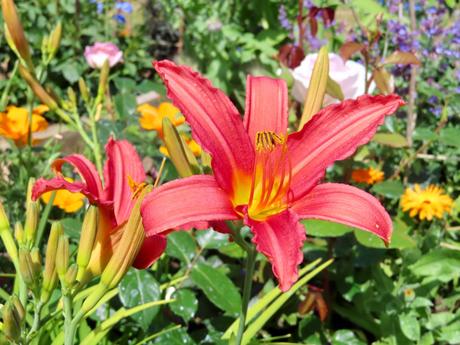 From what I call the 'A&E' bench at my local garden center I bought two very sick raggedy Day Lily plants earlier this year for the allotment cottage garden. It is an intense pink and adding lots of colours to the garden. I love Day Lilies and had a wonderful orange one in my Worthing garden that had spread everywhere. I hope these spread too.
4. Larkspur 'Giant Imperial'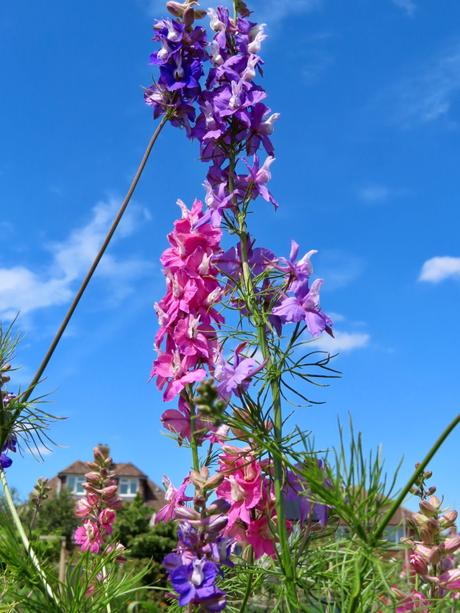 I grew this Larkspur from seed this year and they are magnificent, and certainly living up to their name. To get the full impact of the height, I took this photo from ground level. I am really pleased with how well they have done.
5. Alstroemeria 'Indian Summer'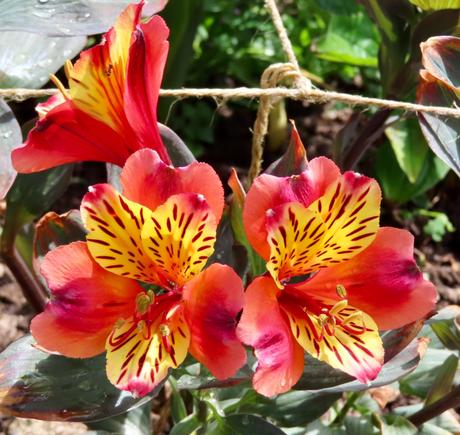 I first saw 'Indian Summer' last year in Mottistone Manor, Isle of Wight and made a note that I wanted it in my garden. I'm not sure if it is because I am aware of it now or I'm just ahead of the game, but I see it recommended for gardens in lots of garden magazines, so feel quite pleased I am growing it too.
6. Sweet peas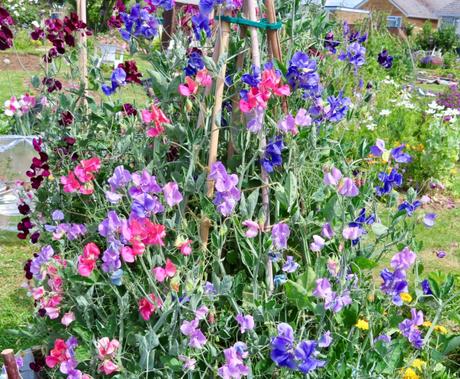 My sweet peas have been absolutely fabulous this year. I planted them in deep manure filled trenches with Vitax 4 and think that must have contributed to their success. I have 'Mammoth' and 'Pink Lady' growing the other side and the ones in this photo are 'Noel Sutton' and 'Miss Willmott' with 'Beaujolais' in the background. I am cutting bunches almost every day, although Monty Don on Gardeners World this week said to cut them every eight days. I might just leave them now as the stems are getting shorter.
Thank you for visiting my blog and taking a look at my Six, on Saturday for the 6th of July. Please hop over to The Propagator's Blog and see what is happening in other gardens this weekend.