Wednesday arrives amid uncertainty. The divide between the two sides of the nation politically is directly in the middle. Polls move fractions of a percentage point in either direction, but the fact remains the same: less than a week before election day and the nation is waiting with baited breath.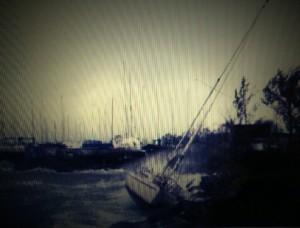 Getting rocked
Hurricane Sandy's monstrous impact on the east coast has some political heads fielding discussions about postponing the election day, an event that hasn't happened in almost 170 years. While realistically there is little possibility this would be an option, there is a slight chance that there might not be a choice. If public transportation stays down in certain areas through election day, with some areas possibly still without electricity, the voting mechanism wouldn't work, forcing a delay.
Meanwhile, Obama is in crisis mode and Romney continues to campaign away from the storm. Overall, the storm is a chance for the nation to come together, to send our thoughts to the victims and those digging out. Social media has been taken over by Sandy, in a way that threw political ideologies out of the window. Even though as of today over 30 unfortunate lives were tragically lost, people were reminded that as a society, we look out for each other. When water floods in, when we are forced to the roofs of our homes, slashed by the winds of uncertainty, huddled together praying for survival, help will come.
America responds to disaster. Our rescue servicepeople are heroes, who risk everything to make sure that people dont become paralyzed by fear. They give hope to those holding to keep grasping. It reminds us that we can evacuate hospitals in the middle of a superstorm to save those inside. We can survive in a huge metropolis by candlelight. And it proves that our value as individuals lies not in our ideas of personal liberty, but in how much our community will look out for us.
Divisive political rhetoric tries to make us forget this, it tries to tell us that out society drags us down, that potential is saddled by lazy people. That policies that benefit the rich will help all of us, cutting revenues to social services including rescue forces would mean a balanced budget because millionaires would make more money for everyone. No one who is waiting for a helicopter to pull them out of flood waters is worrying about our growing debt burden. When it really matters, our society is the exact opposite of what the right wing would have you believe.