Siu Mei, the ultimate food in Southern China
Siu Mei simply describes meat which is roasted on a spit or a special rotisserie oven, and you'll see ovens jam-packed with whole ducks and whole chickens around every street corner if you're looking for food in Southern China.  You can almost smell the succulent juices, and the tasty aroma is inescapable, day or night. 
Salivating is normal, I assure you.  Staring is standard, and no-one will judge.  Ordering Siu Mei when you've already eaten is forgivable too – many people like to take a polystyrene dinner box of meaty happiness home with them for supper.  And that's food in Southern China for you.  Simply too delicious to resist.
Others may not agree with me, but that's because Cantonese cuisine can be an acquired taste.  If you don't love it, I'm afraid I'll have to diagnose you as gastronomically uncultured.  Sometimes, I just don't think people are adventurous enough with foreign cuisine, and if people do decide to explore, I'd definitely recommend food in Southern China as a good place to start.
Food in Southern China is an easy introduction to cuisine in South East Asia, and dim sum restaurants serve an exquisite Siu Mei Platter which gives you a little taste of the Orient.  In delicious meat form.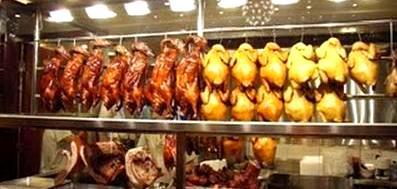 Siu Mei rotisserie: char siu, roast duck, soy sauce chicken
Siu Mei Platter: The King of All Dim Sum
When the Siu Mei Platter comes out, you know they means business.  For me, this is the God of all dim sum dishes and despite the word 'platter' suggesting its natural disposition for sharing, I do sometimes daydream about harassing an entire serving tray of Siu Mei meats all by myself. 
The Siu Mei Platter is a flavorsome fan of spit roasted meats; sweet and succulent char siu pork, salacious slices of roasted goose or duck, scrumptiously smoked ham hock and effortlessly seasoned soy sauce chicken, finished off with a garnish of cold, crunchy jellyfish.  

Siu Mei ham hock

Siu Mei jelly fish

Siu Mei roast duck

Siu Mei soy sauce chicken
I'm especially in love with the cold pork hock and jellyfish selection.  It's usually drizzled in a sweet and sour vinegar which adds a raucous edge to the platter.  Food in Southern China is almost always served with rice so you can soak up the different meat juices and break up your palate.  Dim sum restaurants will serve the rice in a separate serving bowl, so don't forget to order it with your waiter. 
Try the Siu Mei Platter in South China
Siu Mei Platters may vary from restaurant to restaurant, and many will display their rotisserie meats outside to attract diners.  It usually works.  In fact, I'm the official guinea pig. 
I hope you enjoy the Siu Mei Platter as much as I do…

Siu Mei Platter