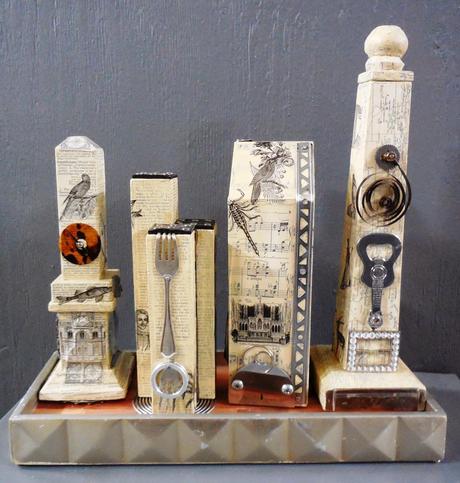 "Sister City of Wonder"
The "City of Wonder" is one of my earlier assemblage 'city scapes'.  This piece is the 'sister City' to the 'City of Wonder" . .  . does that make sense? 
I absolutely love working with art materials that have a story to tell, a past, a history. Every element in this cityscape had a previous life, being something else. Here, they have all been transformed into a city scape with a new story to tell, and a bright and interesting future.
The four 'buildings' in this piece are made of wood. Two of them are scrap lumber (#2 & #4 above) 2x2 pine and 4x4 mahogany from the Dave the Cabinet maker.
The other two are most interesting.  
#1 is made from a hand made chess piece, found at a garage sale a few years ago.  At the time I did not know what it was, but i loved the patina on the oak and the signature and date on the bottom. As luck would have it, I did not photograph the piece before papering it. I only found out later what it was from my studio mate, 'Cliff' who knows about all these things. 
On top of the chess piece (staring at the fish) I positioned 2 additional pieces of wood, a 1" slice of 4x4 and a 4" piece of 2x2 that has been shaped on top, to form the skyscraper.
#2 began as a hand carved incense burner tower, similar to this:

All four 'buildings' are covered in text from a 1926 dictionary, and washed in an off white paint/varnish finish, cut out images from the same dictionary are collaged on top. Each building is embellished with bits and bling, top to bottom.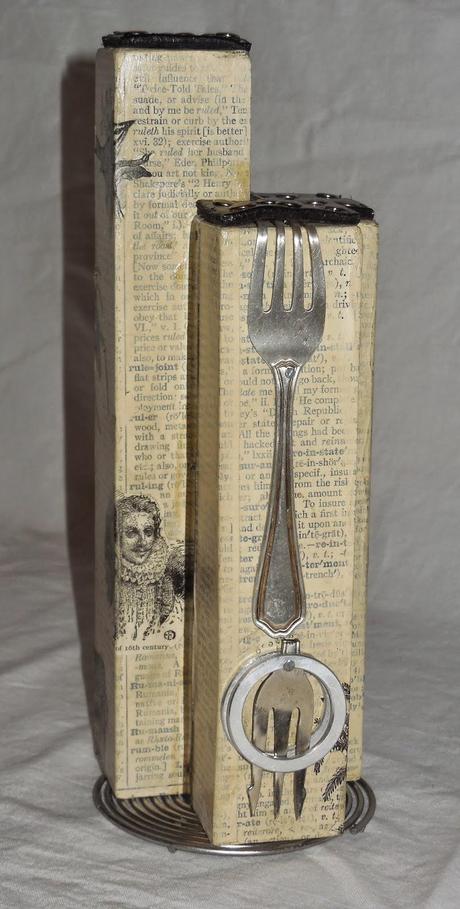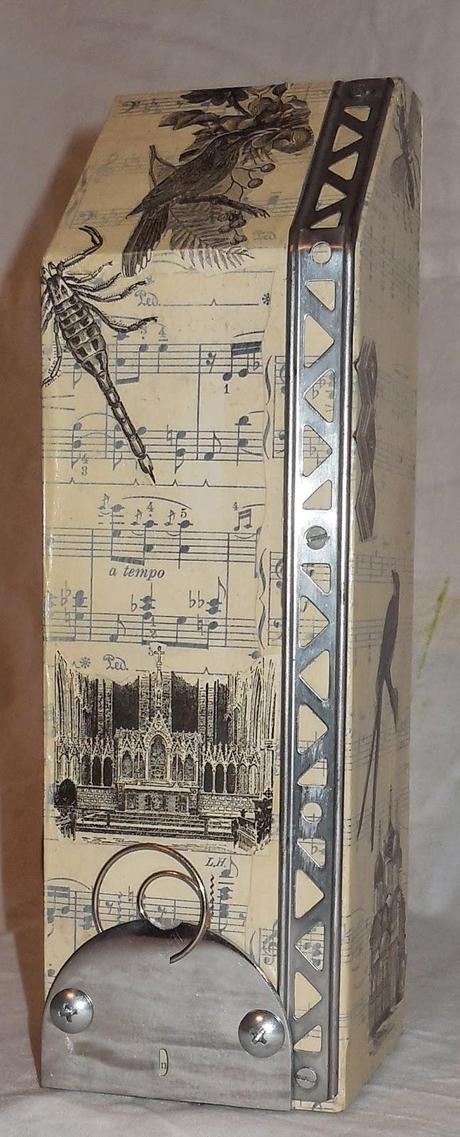 The base is a wooden box, unsure of it's origin. Possibly made to hold candles.  I lined the bottom with 'canvas shims' or tightening keys, and created an inlaid soft-wood floor for the the cityscape.
My friend Paula, who is a prolific painter, gave me a bag full of these shims, asking me if I had any use for them. 
I didn't, but I found one . . .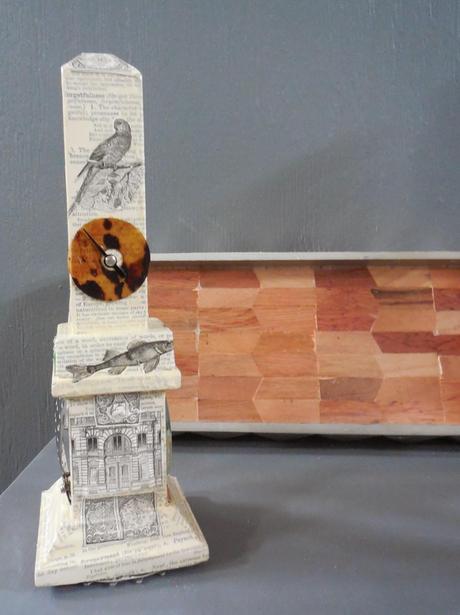 Thanks for stopping by. let me know what you think of this city scape. I would love your thoughts.
Have a creative 2015, everyone!