I'm really not a luxury fan.  I'm more of a luxury critic.  It's my speciality to nit-pick when my purse is feeling blue because the credit card has gone out and overindulged again!  My pet hate is a hotel which charges sky high prices just for the sake of calling itself "luxury".  My Achilles' heel is a hotel that offers you the world because you forked out money for it.
Lebua did offer me the world.  It offered me the world, the sky, all the lights of Bangkok, and a slap up meal with cocktails – all this with nothing more than just a sheet of glass between me and the city.  Now that's the sort of thing I don't mind paying for.
This is one of the best hotels in the world, without a doubt. 
Lebua at State Tower Hotel & Sirocco Lebua Review
5 ★star recommendation
Price: cough up – it's worth every penny!
Location: a riverside location with amazing views of the city
Service: good service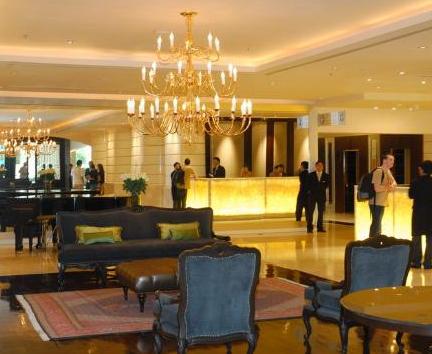 Rooms are just rooms, right?  Not my room.  My room has a lavish stone balcony, as do all the rooms at Lebua.  Lebua State Tower is one the finest hotels in Bangkok and I wish I could have stayed longer; a huge bed, a spacious room with a separate sitting area, a powerful shower, luxury toiletries, and of course a gorgeous balcony overlooking the entire city.
The Thai service industry makes the rest of the world look like amateurs and the staff at Lebua, were, as expected in Thailand, extremely helpful.   Although the service wasn't quite as traditional as I expected it to be, this slightly removed and somewhat more westernised way of treating customers, was kind of refreshing.  A more modern approach to customer care – people didn't fuss over me or bow at me in the corridors.  At first, I was a little disappointed, but then I realised that Lebua was simply ahead of the times in Bangkok.
Sirocco Lebua: Not to Be Missed!
What you will also find at Lebua State Tower are some truly designer restaurants such as Mezzaluna, Breeze and Sirocco.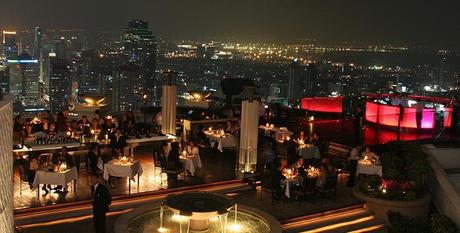 I was lucky enough to dine in both Mezzaluna and the magnificent rooftop restaurant, Sirocco.  Although Mezzaluna didn't blow me away to another world, the Sirocco Lebua dining experience alone, makes this one of the most unforgettable hotels on the entire globe.  And I would really love to go back again.
Sirocco State Tower in The Hangover 2
Sirocco, now famous for appearing in The Hangover 2, is found on the 63rd floor and is the highest al fresco restaurant in the world. Finished off with a cocktail at the Skybar, you simply don't get any better – or higher – than this.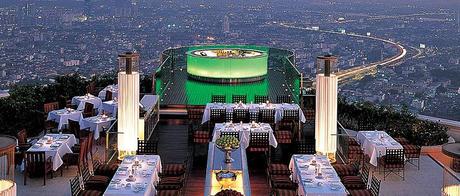 Some people may know Lebua State Tower as the only place to find a 'Hangovertini', but I discovered this amazing place long before the drunken antics of four America stags. I loved Lebua first; before this film inspired cocktail, and hopefully one day, I'll return to drink it.