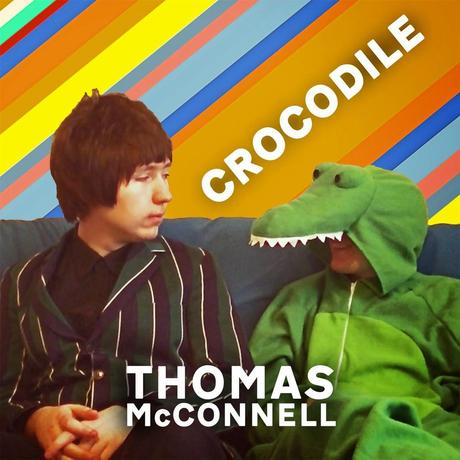 Did you ever play hide and seek with a crocodile? Well, liverpool's imaginative muso Thomas McConnell can certainly cross that one off his list. In the music video for his latest single release, the characteristic singer/songwriter embarks on chasing a costumed crocodile, whilst drawing his listeners into a
colourful visual frenzy and exposing them to vivacious and bright tonal buoyancy. 'Crocodile' dallies with dynamically upbeat and excitingly quirky instrumentals, topped off with jovial, eccentrically spirited 
vocal radiance, that 
occasionally flares Mr. McConnell's blurry, gripping falsetto, and accelerates with infectious and melodiously frisky jauntiness. Best classified as eventful contemporary pop music abundant in brisk rhythmic twists and vivid melodic vision, 'Crocodile' presents itself as a shiny bag of (sonic) sweets, zestfully sparkling and entertainingly delightful, blending eclectic tonal colours and bouncy harmonies as well as diverse musical genres, most notably embracing a tingly 60's flair and lively psychedelic tonal distortion. 
    The official music video for 'Crocodile'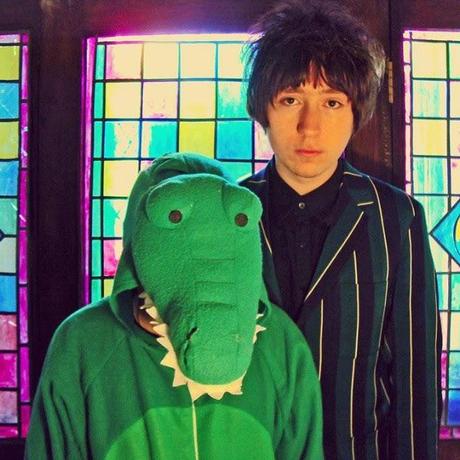 Why so serious? 'Crocodile' comes up with gleefully infectious
and perky pop spirit
Reach out & listen to Thomas McConnell on ...
.. twitter ..
.. facebook ...
.. the singer/songwriter's official website ...
.. soundcloud ...
.. bandcamp ...
Let's hear from the creative musician himself what he thinks about Taylor Swift's 'sick beat' ('Shake It Off'), what makes him a fan of weird, homemade music videos and why the moment has come for him to 'burn his acoustic guitar' ... 
1) You have started your career as a musician playing open mic nights - is it something you still do and enjoy, or have you set with playing in front of bigger crowds now, given last year's UK tour? 
I do still enjoy open mics, yes but they're more for fun now as opposed to trying to get a gig out of them. I like to test out new songs at them though. I also enjoy playing covers in my spare time so it's sometimes fun to get up in a pub and play a few tunes I like.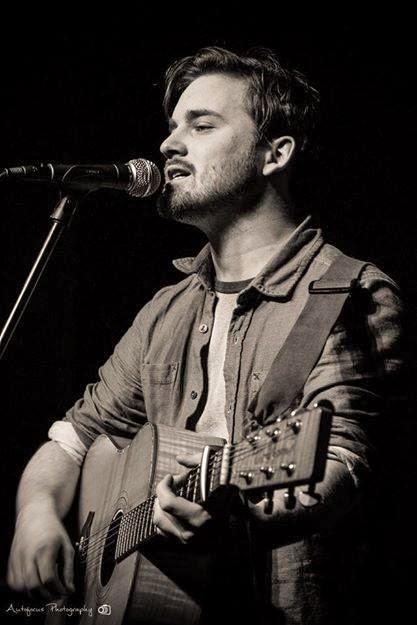 2) I've seen a video of you and Thom Morecroft performing together, and you two really harmonized on stage. C
ould you imagine to collaborate with him? If so, would it be a vocal collaboration or a songwriting one?
I'd definitely be up for collaborating with Thom. He's a good mate and we've recorded together before. I played some stuff on one of his tunes and we did a little oddity called 'Fruit Aisle Nightmare' which was just us talking in sped up voices but it nearly ended up on BBC Radio which was funny.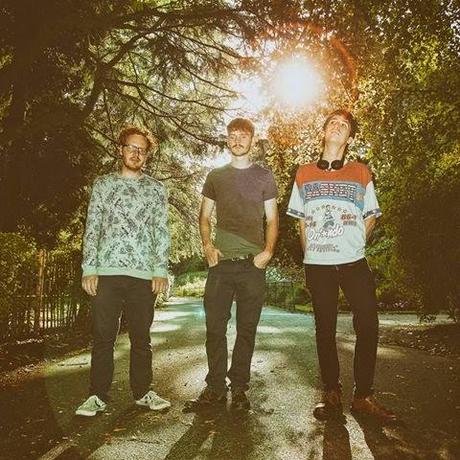 3) You have produced A Lovely War's debut singles. What made you get involved and do you have endeavours to help other local musicians create relevant music in the liverpool circuit again?
Well, Sean of A Lovely War is one of my best mates so when he started the band he asked if they could do some demos with me. We've recorded before anyway and I really like their tunes so I said yes. I put some drums and guitars on them (I think) and produced them at home. I'm definitely up for helping people with recordings and such as I like doing production but most people wouldn't need my help!
4) Now, let's talk a bit about your latest release. What's the story behind 'Crocodile' and how did you come up with the idea for its music video? 
'Crocodile' is a song that I started writing at my friend's, one night a year or so ago. There was this little spanish guitar in the Keith Richards tuning lying around so I just picked it up and made the riff. I wanted it to be a song of sections like The Beach Boys', 'Good Vibrations' and Paul McCartney's, 'Uncle Albert/Admiral Halsey' so I demoed it a couple of times trying out different bits within it and ended up with what you hear today! The video was very quickly made. I think too much emphasis is put on music videos and people who are unknown like me don't need to make blockbuster movie videos. I thought it'd be fun to do a little homemade thing in my friend's house with me and a Crocodile playing hide and seek. It was a laugh to do and Chris Melia who played the Croc was great. Joe Laverty filmed it all and edited it so I couldn't have done it without them.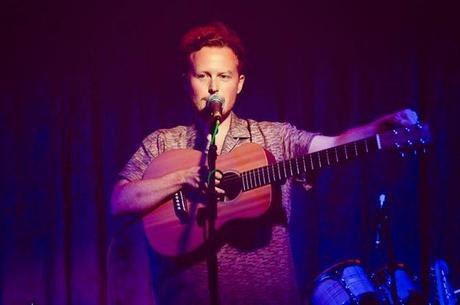 You sure know that Ali Ingle offers to elaborate music videos for artists. Do you prefer to make yours on your own or have you ever dallied with the idea to work with him for one of your future releases?
I'd always be up for working with Ali on one as his always look cool. I want to do weird homemade looking ones as they're fun and don't take as long. The music's more important anyway so I'd rather slave over that than a video. When they're weird they're generally more fun to watch anyway than a really well-shot video of a band playing a song in a room...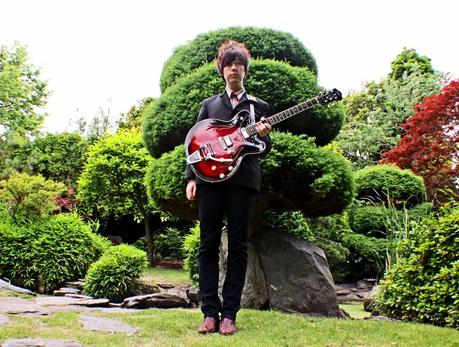 5) Your listeners can tell that you have been hugely influenced by the beatles and are an avid enthusiast of their music-making - your Beatles cover CD bears testimony to it too - yet what contemporary music do you enjoy listening to?
Yeah people I know seem to think I only like The Beatles (I can understand why they do to be fair) but I love quite a lot of modern music. There are tunes in the charts that I think are really good songs even if I don't neccesarily like the way they've been executed. For example I think 'Shake It Off' by Taylor Swift is a really well-written pop tune. It's so catchy and the little 'shake it off, shake it off... ah ah' refrain bit always gets stuck in my head. Although, I don't really like the cheesy lyrics that sound like they're from Twitter or the way she feels the need to have a conversation in the middle of her songs. That bit where she goes 'THIS SICK BEAT' is shit. I love 'Uptown Funk' though and all the other stuff from that new Mark Ronson record I've heard sounds great. My favorite current artist is Mac Demarco though, I fucking love his stuff. It's really woozy jangly guitar pop that's all been recorded on tape so it sounds like it's melting. His chords are mental too. There's a few other great people around too, Stephen Steinbrink has got a great album out at the minute called Arranged Waves and there's also a singer from York called Luke Saxton who's got really great songs. His one about Harry Nillson is fantastic.

6) What has been the last concert you attended at which you have been absolutely enthralled by the musical delivery? And what makes, in your book, a live performance a good one?
I went to see Damon Albarn at the Albert Hall a few months ago and that was one of the best gigs I've ever been too. I've recently made a complete U-turn in my taste as when I was a 14 I was obsessed with Oasis but these days I much prefer Blur and Damon Albarn and have realised how shit "Be Here Now" is. Anyway, we were sitting behind the stage where the choir usually sits and we could see the whole spectacle of it. He brought Graham Coxon onstage as well as De La Soul and Brian Eno so it was just a night of endless joy. It really hit home how many amazing songs and projects Damon Albarn is involved with as the show covered Blur, Gorillaz, The Good, The Bad & The Queen and his numerous other collaborations. I think a gig is great when the artist doesn't even play some of the songs you love and it doesn't matter because the ones you're hearing that night for the first time are so good and so well performed. Unsigned and unknown artists are doing that every time they gig because presumably no one knows their stuff in the audience so I think it's all about winning people over.
7) Name 5 songs to accompany you on an late night bus drive after you played a show.
I don't know really, it would change all the time depending on what I'm listening to but at the moment I'll say...
1. Todd Rundgren - I Saw The Light2. The Beach Boys - I Just Wasn't Made For These Times3. Gorillaz - On Melancholy Hill4. Mac Demarco - Ode To Viceroy5. Mark Ronson and Kevin Parker - Daffodils 
That last one could be replaced with 'Rhapsody In Blue' by George Gershwin if I was in the right mood...

8) The most flattering and/or peculiar compliment you got in a written or oral review, was ... ?
Someone once said I'd written the best Paul McCartney songs since Paul himself had done Band On The Run - that was quite cool.
9) You covered 'New' by Paul McCartney and got praise by the former Beatles' vocalist and bassist himself. If you were offered to suggest Mr. McCartney one song of yours to cover, which one would it be and why?
Haha, I don't know really, it'd be pretty unbelievable to hear him play any of my songs. I've got a new one called 'Inseparable' that I think would suit him as I wanted to do a tune with a clever piano part like 'Martha My Dear' so it's a very Paul-eqsue tune.
10) In order to keep carpe carmina's readers up-to-date with your path as musician, what's planned for 2015?
At the moment I'm getting a live band together so I can get my arrangements and ideas across better onstage and I finally can burn my acoustic guitar! We'll be gigging around in a few months so people should keep a look out dates. There'll also be more new tunes and if I'm in a position to do it, I'd love to do an album.