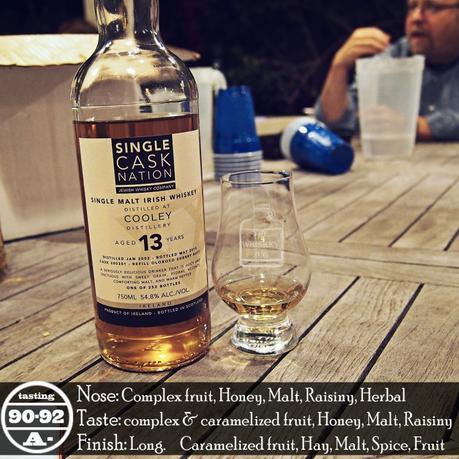 Single Cask Nation Cooley 13 Years is basically a cask strength, non-chill filtered, 13 year old Tyrconnell aged in a refill Oloroso cask and is an awesome Irish Whiskey for 2 main reasons. #1 it comes from a time when the Teelings ran the distillery (Beam bought it in 2011) and #2 it's exactly the kind of thing I want in my glass when I get that craving for Irish Whiskey. Cask Strength is great, but being non-chill filtered it puts the full beauty of Irish Single Malt on display.
Before the Cooley distillery was converted from a potato alcohol plant in 1987 there were only 2 working distilleries in Ireland. Midleton (Jameson) and Bushmills. They supplied all the Irish whiskey available on the market, but then in 1990 Cooley whiskey started hitting the market and they quickly became one of the biggest sources for outsourced whiskey and still remain the biggest today. This Single Cask Nation Cooley 13 is a direct result of that "giving spirit" and I got to taste it at the recent Malt Nuts Glen Elgin event.
Single Cask Nation Cooley 13 Years Info
Region: County Louth, Ireland
Distiller: Cooley
Bottler: Single Cask Nation
Mashbill: 100% Malted Barley
Cask: Refill Oloroso
Age: 13 years
ABV: 54.8%
Cask Strength | Non-Chill Filtered | Natural Color
Batch: 2016
Price: $120
Single Cask Nation Cooley 13 Years Review
EYE
Hay
NOSE
A complex fruit base (rich buttery orchard fruit, dried dark fruit, bananas and apricots) with layers of honey, malt, hay, spice and a raisiny sweetness. A light herbal nature gets accentuated with water which also brings out notes of pear and apple juice and a touch of graham cracker.
PALATE
Like the nose the palate rolls out as a rich complex ball of fruit with the addition of some caramelized fruit notes. Honey, malt and that same raisiny sweetness follow through and get accompanied by a light herbal spice. Water again brings out more of a pear and apple juice sweetness.
FINISH
A lengthly oil slick of caramelized fruit, hay-like malt, spice and a general fruity sweetness.
BALANCE, BODY & FEEL
Fantastic balance, round full body and a heavy oily feel.
OVERALL
This Single Cask Nation Cooley 13 Years was the first pour of the evening I had at the Malt Nuts Glen Elgin 2 event and over the course of the night it became the whiskey I was most excited about revisiting after we made it through the Elgin line up. It was also the first, of two whiskies, I poured a second taste of to get a another read on at the end of the night.
There's no doubt in my mind the Single Cask Nation Cooley 13 Years is among the best Irish whiskeys I've ever had. Without water this whiskey is rich, dense and sippable; an excellent example of the potential beauty of Irish Whiskey. The addition of a wee bit of water creates a deeper fruity dimension to the whiskey that fills the senses and enriches every other aspect of the whisky. It's this rich deep character that makes me want to sit up and start singing Amhrán na bhFiann… after I learn the words of course.
SCORE: 90-92/100 (A-, not consumed at home)