Wendy White suffers fall during Saturday evening performance.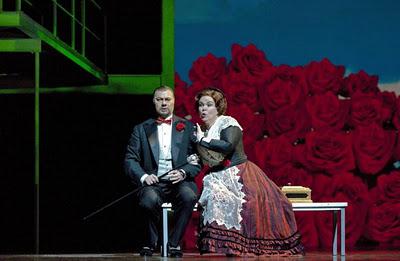 The garden, before the fall. René Pape (left) as Méphistophélès duets with mezzo Wendy White.
Photo by Ken Howard © 2011 The Metropolitan Opera.
According to reports in the New York Post, New York Times and parterre.com, mezzo-soprano Wendy White fell last night during Act III of Faust at the Metropolitan Opera. The show was stopped. Ms. White was taken to the hospital but is reported to be uninjured.
The fall happened at the start of the quartet between Faust, (Jonas Kaufmann) Méphistophélès (René Pape), Marguerite (Marina Poplavskaya) and Marthe, the character played by Ms. White. The quartet contrasts the romantic singing of Faust and Marguerite with the byplay between the devil and the nurse.
 According to eyewitness accounts published on the parterre.com message boards, Ms. White was entering behind Mr. Pape, with both singers on the multi-tiered scaffolding on one side of the stage, when she suddenly disappeared. A "loud crashing noise" was heard. Mr. Pape turned to the conductor and made a "cut" gesture with his hand slashing across his throat. Mr. Kaufmann was heard to say "Sorry, we have to stop." The curtain came down quickly.
A stage manager came out and asked the audience to remain in their seats while the incident was sorted out. Five minutes later, she returned, and announced that there would be an "early intermission." After a 25 minute pause, the opera resumed with Tamara Mumford taking over the role of Marthe. Conductor Pierre Valet  picked up the work from Faust's line "Eh quoi, toujours seule?"  This time, the singers made their entrance from the wings, not the set. The opera ended late, about 12:35.
It was later reported that Ms. White had fallen "about eight feet" when making her entrance behind Mr. Pape. Considering that the elaborate spiral staircase on the set is almost 25 feet high, she may have been very lucky indeed. 
Wendy White is a Metropolitan Opera fixture who made her debut as Flora in a 1989 production of La Traviata. We here at Superconductor would like to wish her a speedy recovery, and express relief that the singer is apparently unhurt.