Little India and Kampong Glam were in my sights during my second Singaporean day of adventure and exploration! During my pursuit that day I was able to find my first hawker centre, experience Indian culture once again and see a majestic mosque! With a pitstop interchange in Bugis, I found Ribena and saw real imported British cheese in an unassuming supermarket! Yes S!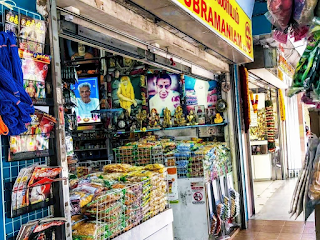 Singapore's MTR system took me from Chinatown to Little India without any stress whatsoever. My hostel bite-size breakfast hadn't kept those hunger pangs away for long, hitting up Little India's Tekka Centre had to be done! Following the immaculately placed signs I let my sense of smell guide to the gorgeous food that was on offer. Choosing a curry plate set meal, I feasted upon a spicy yet flavoursome chicken curry that was served with rice, chapati with some okra on the side. If truth be told it was quite spicy for my palette but I enjoyed it all up, the immense feeling of Little India's Tekka Centre had me like I was in a vortex of culture and life. Choosing a masala chai as my decided drink was the perfect spice to add with my meal, it was such an amazing yet simple food experience! People were so utterly friendly, their manners were impeccable, so I felt removed from China! Oh, manners don't cost much! 
Leaving Little India's Tekka Centre I found myself walking along Serangoon Road, the blue skies worked perfectly well with the brightly coloured shopfronts that lined that busy street. I could hear Indian music and smell the familiar spices and incense just like I did when I was in India during December 2018. I was half expecting to visit Little India's own Sri Veeramakaliamman Temple but it was closed during that part of the day, it was a nice view from the outside of the temple, nonetheless. Stopping dead in my tracks, I saw the shop that has been featured above, the style of the shop reminded me of an ordinary Indian convenience store back from my time in New Delhi. I managed to get a good look before taking some sneaky photos. Little India's authentic nature didn't end there, I found some delicious Indian sweets in a shopping arcade that looked perfectly colonial in a British sense. Sure, Little India's vibrancy along with the food had bolstered my loved for diverse neighbourhoods.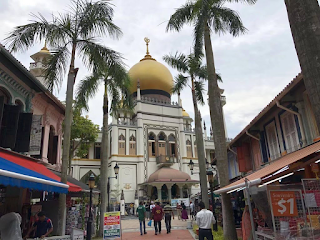 Making a quick change at Bugis Junction along the MTR network in Singapore, I had the pleasure of being reminded that I stood a few good thousand miles away from mother England! Allow me to elaborate, feeling like I needed my thirst quenched I caught a supermarket come into my view as I walked towards the exit at Bugis Junction. Fridges filled with imported European goods, I saw actual mature British cheese! It's the simple things! Oh, that thirst, not wanting anything fizzy I amazingly found Ribena! Call me crazy but I'd have to do some pretty drastic things in China to get Ribena in that bottled drink form! Getting myself together, I found the road to Kampong Glam within a few moments but being in Singapore those humid showers poured on down without any warning. My interchange through Bugis Junction was short but it was most definitely very sweet! Yes C, Singapore made me feel very at home.
Another strand of Singapore's rich cultural make up smacked me in the face visually, that was in the form of Kampong Glam. Serving its Arabian charm and then some, I found Muscat Street as the golden domed opulence of Kampong Glam's Masjid Sultan came into view. Not feeling like looking inside I marvelled from the outside, the rich detail of that house of worship impressed me much! Dodging the tourists took some going, almost losing my last nerve I managed to capture Singapore's statement Kampong Glam mosque without going off! Food was the center of my day, done with the mosque I found some equally Arabic scran! Watching the tourists float past and the nearby English teachers who were working in China talk their talk made me laugh! My Turkish meal nearly took every last dollar for that day but it was worth it for the rich flavours! It was feeling very touristy but the Arabian charm that Kampong Glam possessed left me wanting much more from SG! Serve it Singa!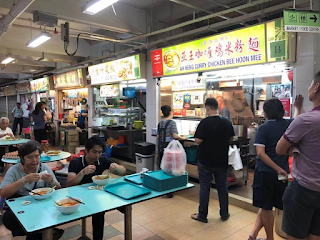 Already staying in the third ethnic neighbourhood that I had on my radar allowed me to experience one of the many hawker centres in Singapore. Being a city that's known for its high cost, the hawker centres saved me a tonne of money! Resembling more like an elaborate and uncomplicated canteen-like dining experience I embraced Chinatown's Hong Lim Complex wholeheartedly. Closed upon my first attempt, their was a big clean going down that day so I waited patiently for the food vendors to reopen. Nothing reminded me of the mainland, I recognised signs that I had seen in Hong Kong with their Cantonese variations. Choosing the duck rice after finding an ultra clean takeaway style concession. The soup served alongside the duck rice dish was just amazing, additionally quenching my thirst I enjoyed an ice cold soy bean milk drink. Singapore's Hong Lim Complex served the goods, it was cheap with delicious finds S!
Without any doubt in my mind, Sinagpore's hawker centres hadn't seen the last of me! No! Food was not in short supply across two days, during both experiences at the hawker centres in Little India and Chinatown. The vibrancy of Little India had me instantly, transporting back to India impressed me much with the sights and incense on-point! Bugis Junction gave me a slice of mother England as I stood in a Singaporean land, of course Ribena is life! Yes, I saw a 'Poundland' style Singaporean Dollar store! Kampong Glam kept it chic, serving Arabian glamour with its opulent mosque! Combining the three neighbourhoods including Bugis, the time in Singapore had me questioning my actual geographical location! The historical facts, cultural gems and religious servings kept me on my toes! Singapore had me speechless yet again, leaving me wanting more for all the right reasons I called it a day after my experiences during 2019s Chinese National Day holiday. No, I just couldn't get enough of SG!
Hong Lim or Tekka Centre?
Joseph Harrison