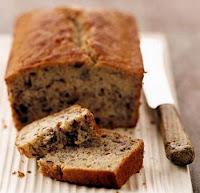 Since I'm in the mood for sharing my favourite recipes this week, & since this is my most baked cake.. so simple & so gratifying because you don't even need to plug in the mixer..& what you're rewarded with is the most deliciously warming & comforting banana bread, which if I'm honest is far less like a bread & more like a cake.  I like to add some sultanas to the mix which adds a real stickiness to the cake..OK, spread it with butter & it's a bread, eat it nude & it's definitely a cake. This is a firm favorite here in the office, it's a Monday morning tradition as is the Sunday afternoon bake off..
I hope you like it.
75g softened unsalted butterplus a bit extra for greasing
4 mashed ripe bananas
200g soft brown sugar
1 beaten egg
1 teaspoon bicarb soda
A pinch of salt
170g of flour (I always use wholemeal or spelt) by if you prefer white, that's fine.
Half a handful of sultanas or chocolate chips
Mix the bananas, butter, sugar, egg together in a large bowlAdd the flour, salt, bicarb & sultanas (or choc chips)Mix together
Pour into a greased and lined standard size loaf tin.
Sprinkle a bit more brown sugar over the top of the cake mix just before putting it in the oven,this will create a lovely fudgy, sugary crust
Bake for 1 hour 180 degreesorGas mark 4
Delicious.