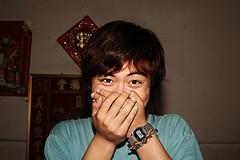 Our humanity is our power and our strength.  Sharing with others what we have in common will help us define ourselves. 
When simple life things happen, laugh, learn and share them with others.
It's an opportunity to show our confidence and grace and connect more deeply.
How you react when the joke's on you can reveal your character.
Robert Half
Friday Funny:
A LITTLE BOY IN CHURCH FOR THE FIRST TIME WATCHED AS THE USHERS PASSED AROUND THE OFFERING PLATES. 
WHEN THEY CAME NEAR HIS PEW, THE BOY SAID LOUDLY, "DON'T PAY FOR ME DADDY I'M UNDER FIVE." 
Remember you create your day by the way you think!
Make it magnificent!
Blessings, Shawna