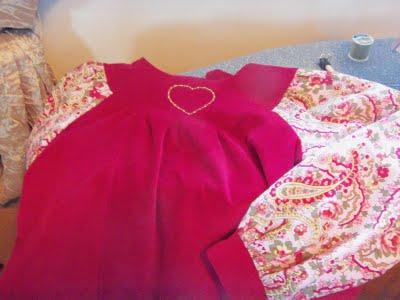 Well, I have to say I don't care for this pattern very much and most likely will not ever use it again!   I think simplicity has some very cute patterns, but I have found that the directions and construction on some of them lack something to be desired! I am not talking bad about the company, I have used some of their patterns that I loved to pieces, but sometimes they are absolutely harder then they have to be!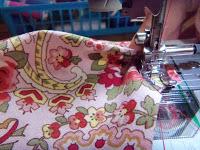 This is a very cute dress.  I love the fabrics I have chosen and I think they go together well, but the pattern has way too much unnecessary gathering. Considering it does not have ruffles or a full skirt, the pattern could have been constructed without all the dang gathers!  I had to gather around the front of the yoke, the back yoke did have tucks instead of gathers and I wish I had done that on the front, gathers around the sleeve caps and the sleeve bottoms. If I had time I would change a lot about this pattern, but the last day of this sew a long is September 15th and with my work schedule, I just don't have the time.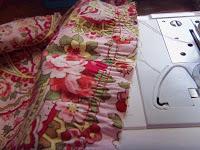 I had to do double rows of stitching  for gathers in a lot of places that would have been fine with just some easing.  The sleeves are way too full along the length  and a little less gathers would have made this area a little slimmer which would have created a nicer looking sleeve, in my opinion.  I don't care for the way the sleeve looks on this dress at all.  I don't know quite what it is, but I am not a happy camper!
The front yoke is fine, but with the zipper, it would have been nice if the back had been a full back piece instead of the yoke.  The yoke, yoke facing, and interfacing make it very bulky in the seam line across the back where the zipper is placed.  One piece for the entire length of the back would have made this a much smoother application.
Any way, I am glad that it is finished except for the hem and I will start on the vest tomorrow.  I had considered not even doing the vest since the dress itself has taken so much time, but because of the type of  sleeves, I think I will make the vest.
I did do an embroiderd heart in the middle of the front yoke with green and yellow to tie the colors of the sleeve fabric into the dress.  It looks nice and I do like it.  I will also incorporate this look onto the vest also, possible on the front corners of the collar.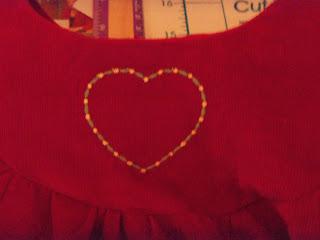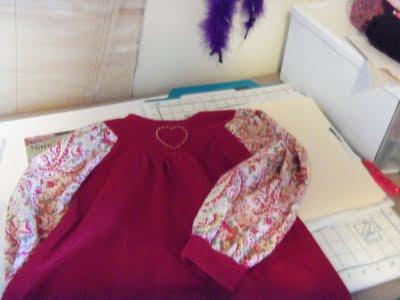 I will have to wait until September the 15th to post pictures of the complete outfit, this is a Simplicity Project Runway Sew-A-Long stipulation.
Happy Sewing!
Click on the link below to read more about this sew-a-long.
http://sew-a-longs.blogspot.com/2011/08/simplicity-project-runway-sew-long.html