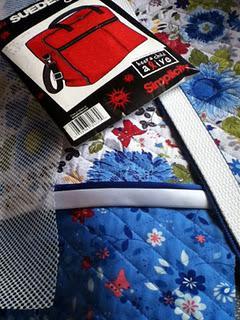 Well the "Suede, Sew For A Cause"  Sew Along will begin on Tuesday, and I have been busy getting my supplies organized. This pattern calls for both bias tape and piping and I will be making both of them. For the Piping I will be using Wrap and Fuse Piping made by Clover and designed by Nancy Zieman of  Nancy's Notions and Sewing With Nancy .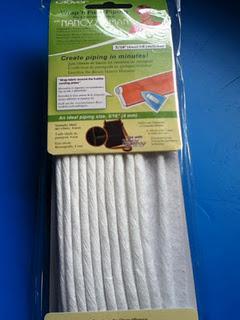 It is really very easy and makes beautiful piping.  You cut a bias strip of fabric 1 and 3/8 inches wide and simply wrap the fabric around the Wrap and Press.  The directions are on the back of the package and are very simple to follow.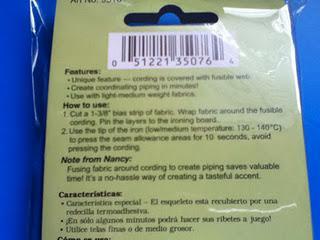 The product is simply cording wrapped with fusible web, but the process is much easier then wrapping and sewing the fabric around normal piping cording.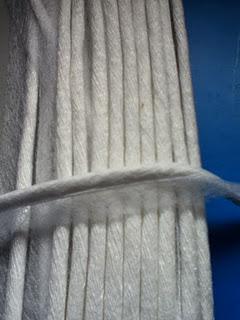 After wrapping the fabric around the Wrap and Fuse, simply press with your iron along the seam allowance using a low to medium setting and No steam.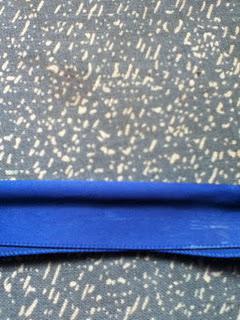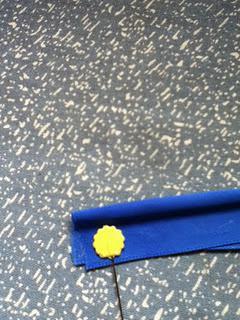 As you can see from the photos, it turns out great!
Home made bias tape:
You can purchase a Bias Tape Maker from Simplicity. It is really pretty neat, it presses and folds the fabric for you. I actually do own one of these little gems, but I find it is almost as easy to just do it myself. This pattern calls for 1/2 inch double folded bias tape. To make your own start with a bias strip of fabric 1 and 3/4 inches wide. Press that in half.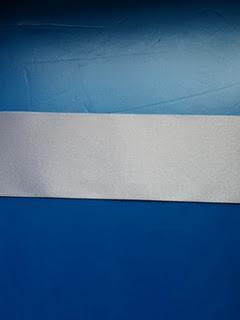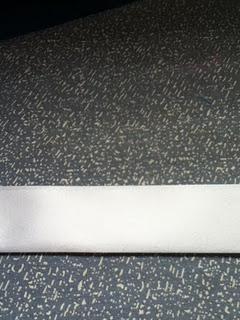 In this case,  press with a setting as warm as the fabric can handle, and  use lots of steam. After  pressing the entire strip in half,  fold each side in and meet them in the middle (actually, I leave a very small space and do not let them touch in the middle). Press well and fold each side in again, this time I fold and press one side slightly larger then the other. This assures that a little bit of a lip will be formed and when you place the slightly larger side on the under side or wrong side of your fabric, it is sure to be caught in the stitching while stitching it down from the right side of the fabric.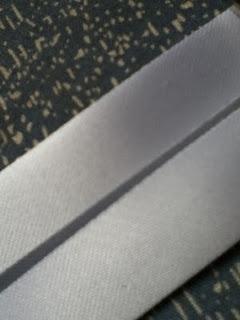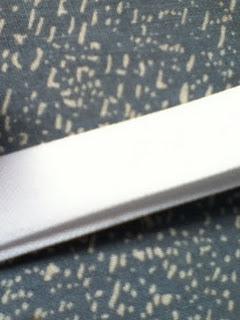 See, easy as pie! I am now ready to start sewing! Let the fun begin! There is still time to join if you would like to make this great travel bag! You can request to join here.  Hope to see you there!
Happy Sewing!