Yesterday, I invented this lovely pasta dinner! I created a lovely special home-made red pesto that was a bit thicker then the normal one's & made this lovely delicious dinner out of it. I ate it without the smoked bacon!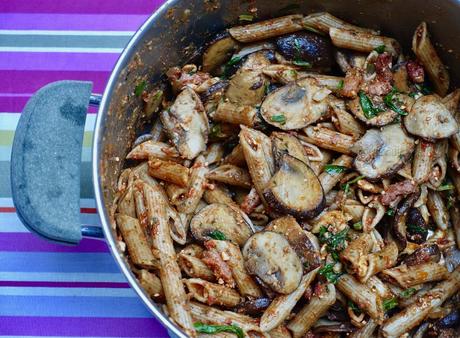 Lovely tasty food!
Recipe: For 6-8 portions
Ingredients
For the red pesto:
1 pot of semi-dried tomatoes in its oil, oil rained but kept (135 gr)
1 big handful of fresh basil leaves & stems, cleaned, chopped
1/2 block of Parmesan cheese (I will use 40 gr grated!)
1 + 1/2 tablespoon dark aged balsamic vinegar
2 tablespoons of that drained tomato oil
a peppery extra virgin olive oil, to taste, about 2 tablespoons
black pepper
sea salt
3 tablespoons of raw (roasted in a dry pan) cashews
For the rest of the dinner:
200 gr smoked bacon pieces (I used Herta)
2 small white onions from the garden, peeled & finely chopped
big chestnut mushrooms, about 500-600 gr, cleaned, sliced thinly & then each one into 2
lactose-free butter
the same peppered extra virgin olive oil as used above!
a bunch of fresh rocket leaves, chopped
500 gr whole grain spelt penne
Method:
First, make your red pesto

. Take a food processor & add all ingredients in it. This is the semi-dried red tomatoes, the chopped basil, the Parmesan cheese, the roasted cashews, balsamic vinegar & 2 tablespoons of a peppery extra virgin olive oil & some sea salt, but not too much because the Parmesan cheese is already salty! Now, pulse & chop until it is the consistency of a red pesto, with bits & chunks in it. Put into a bowl & set aside.
Now, cook your pasta like on your packet instructions. Drain well & keep warm.
Fry onions, mushrooms & smoked bacon. Take a big pan & heat up on high. Pour some of that same peppery extra virgin olive oil in it. Add chopped onions & fry for a few minutes, stirring often. Add some butter, some more oil & sliced mushrooms, some pepper & some salt. Fry until golden & cooked through on all sides. Remove from the pan & keep warm. In the same pan, fry your smoked bacon until browned & cooked through. This will only take a few minutes. Take a few tablespoons or all of your red pesto through the hot pasta. Mix well. Add fried bacon & mushrooms-onion mix. Add a bunch of fresh rocket leaves to the hot pasta mix. Check seasoning, one last time. I added 10 grins of freshly milled black pepper & some sea salt. Mix it well. Serve at once! Enjoy, with loved one's!

MMM! The perfect pasta com! Yes!
If you loved reading this post & would like to receive cool email posts from me, just SUBSCRIBE to my lovely blog HERE!!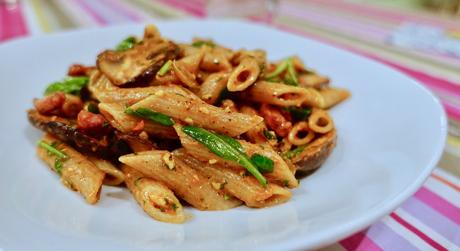 MMMM!