My boys love pumpkin!!! I woke up early Monday morning to make them  breakfast mostly featuring pumpkin. Here's one and I'll post the other tomorrow!
My husband love this pumpkin pie smoothie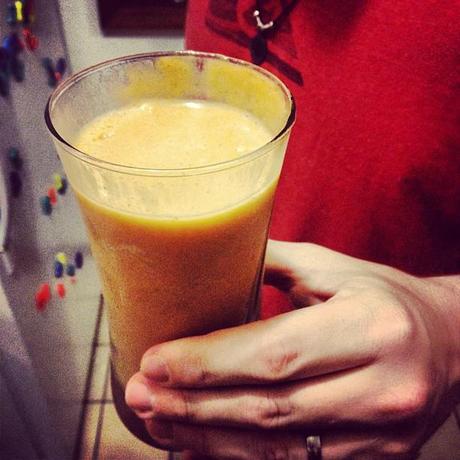 Simple Simple Pumpkin Pie Smoothie


Serves 1
1/2 cup pure pumpkin puree (or any squash you have handy)
1/2 cup coconut milk (any milk you want)
1/2 of a banana (frozen for a thicker cool smoothie)
1/4 cup frozen raspberries or any berry (i used this to make it sweeter omit if you want use the sweetener of your choosing)
1/4 teaspoon pumpkin  pie spices
1/4 teaspoon pure vanilla extract
1 tablespoon flax seeds (optional)
1 tablespoon wheat germ (optional)
I didn't put any sweeteners in this. But you can put a tablespoon (or your taste) of any sweetener you choose. Maple syrup or brown sugar would be awesome in this!
Directions:
Add each ingredient to blenders in the order listed. Blend to your pleasing. Add more or less liquids if desired!
Hope you all enjoy!!!!