Perhaps one of the easiest ways to look and feel good is by painting your nails. It's not expensive and it's something that lets you get completely creative. Even if you don't have long nails or a steady hand there are tons of styles you can choose to show off your taste in colours. Other than painting them with one color you can create triangles really easily!
Start by applying your base coat, you can get them anywhere and almost all makeup brands will have them on sale.  Cover your whole nail and let it set before moving onto step two. To quicken the process you can use 'Liquid Freeze Spray,' which you spray once over each nail to help them dry in record timing!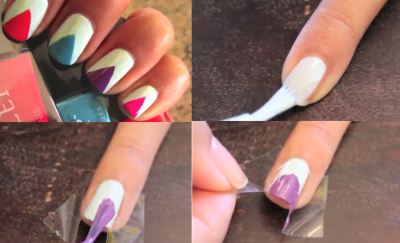 Photorights to HelloGiggles.com
Afterwards, place one piece of tape diagonally over your nail. Repeat the same step on the other side of your nail, but try not to press down to much as the nail varnish may come off with the tape. Once the tape is secured down choose a contrasting color to paint in your triangle. Bright colours work best, try red or purple to make your nails look beautiful and stand out! After you've done one nail repeat the same step on both hands, maybe mix up your colours?  You can use this look both during the day or night! All you have to do to complete the look is to carefully remove the tape when the varnish is dry and to place over a clear top coat. But if you're going out for the night or it's a special occasion, then why not add a glitter topping!