Hi readers, it's day 22nd, and it is Eco Traveler's day! Now I have a little tips for you when staying in a hotel/ hostel/ whatever. Sometimes, a simple action you do as stated below will mean a lot for environment sustainability, like saving the energy for example.
Hai pembaca, sekarang tanggal 22, dan saatnya Eco Traveler time! Pada edisi ini saya punya sedikit tips untuk kamu yang sedang menginap baik di hotel, hostel dan penginapan manapun. Terkadang, hal-hal kecil seperti yang saya akan bahas di bawah memiliki dampak besar bagi kesinambungan lingkungan hidup, seperti menghemat energi misalnya.
1. Reuse the towel!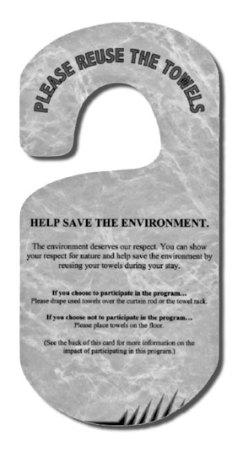 Pic taken from http://www.thehuntingdynasty.com/uploads/towel.jpg
If your hotel/ hostel provides towel which could be daily changed, make sure that you don't ask for the new one every day. You might often read "Reuse your towel" card hanging on the rack. By reusing the towel, you have save more water to wash the towel. Imagine how much water saved if this tiny action is exercised by many guest?
Jika penginapanmu menyediakan handuk yang bisa diganti berkala tiap harinya, pastikan agar tidak menggantinya setiap hari. Tentu kamu sering melihat Kartu petunjuk "Gunakan kembali handuk anda" yang menempel di gantungan handuk.Dengan tidak sering-sering meminta handuk baru, berarti kamu sudah menghemat penggunaan air untuk mencuci handuknya. Bayangkan berapa liter air yang bisa dihemat dengan aksi sekecil ini?
2. Turn off all the electricity when leaving
Some hotel/ hostel has electric circuit which would automatically turn off the electricity when you plug off the card key from its slot. But some other still uses manual key which obliges us to turn off all the electric devices (lamp, TV, fan/ air con) by our selves. Ok, it feels so good to get into the cold freezing room after getting sweaty outside there. But imagine how much energy you waste by turning on the air con all day long, while you are not inside the room?
Ada beberapa penginapan yang memiliki sirkuit listrik yang otomatis terputus begitu kita mencabut kartu kunci hotel yang kita plug di slot. Namun ada beberapa penginapan sederhana yang masih menggunakan kunci manual sehingga kita harus mematikan sendiri seluruh fasilitas elektronik seperti lampu, TV dan AC/ Kipas Angin. Ok, masuk ke kamar yang dalam keadaan AC menyala setelah berkeringat ria di luar tentu merupakan sesuatu hal yang melegakan. Tetapi bayangkan energi listrik yang terbuang sia-sia karena menghidupkan AC di kamar yang tidak berpenghuni?
3. Sleeping with Sleeping lamp
For anyone who can't sleep when the room is totally dark, the hotel/ hostel/ whatever provides low-power sleeping lamp. Beside saving the energy, the room will not be too dark or too bright.
Bagi kamu yang tidak terbiasa tidur dengan kamar yang terlalu gelap, hostel ataupun hotel biasanya menyediakan lampu tidur berdaya rendah. Selain ini turut menghemat energi, kamarpun menjadi kamar tidak terlalu gelap dan tidak juga terlalu terang.
4. Saving more Water!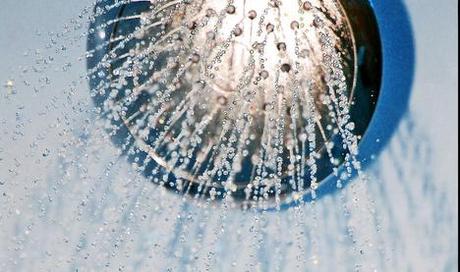 Pic taken from http://media.treehugger.com/assets/images/2011/10/showering.jpg
When you take a shower or when you brush your teeth in the sink,make sure that you use an adequate amount of water. Some people are enjoying when letting the water showers when they soap their body and some use to let the water from the sink tab flowing when brushing the teeth. Indeed this will waste the water. Why don't you shut the tub when you are using the soap or when you are brushing the teeth?

Ketika kamu sedang mandi di shower, atau sedang menggosok gigi di wastafel, pastikan anda menggunakan air secukupnya. Banyak yang gemar membuang-buang air saat sedang sabunan, dan beberapa suka membiarkan keran menyala dan air mengalir saat menggosok gigi . Kenapa tidak menutup keran air sejenak ketika sedang memakai sabun ataupun sedang menggosok gigi?
4. Walk and walk
If your room are only on the 1st or 2nd floor, instead of using the elevator, why don't you use the emergency stairs which uses to be located next to the elevator? Beside saving the electric energy, we can do the cardio in fun way by climbing up or down the  stairs.
Jika kamarmu hanya berjarak satu lantai atau dua lantai di atas lobi, ketimbang menggunakan elevator, kenapa tidak menggunakan tangga darurat yang biasanya terletak di kanan atau kiri elevator? Selain menghemat penggunaan listrik, tentunya kita bisa berkardio ria naik turun tangga.
___________________________________________________________________________________
Cover taken from http://ecohomexpert.com/wp-content/uploads/2013/11/save-energy-1.jpg