In my first ever makeup semi-tutorial on the blog, I showed you how to do a very simple and easy everyday makeup look that can double up both for day as well as night wear. I used the technique of first applying a lighter eye shadow shade on the lids and then with a fluffy brush lightly running over the crease with a darker shade and blending it in. In today's tutorial, I will show you another easy way of doing up your eyes. The products remain the same but the colors change to silver and black. This is an ideal look for the night but the great thing is that it's subtle enough for the day as well. Lets get started..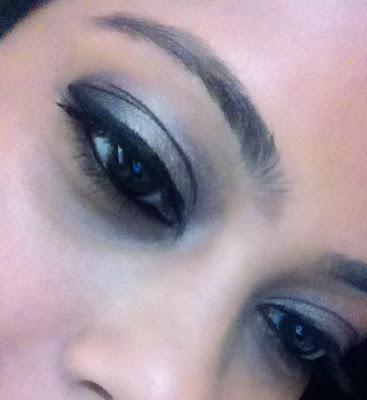 List of Products Used:
1. Kryolan TV Paint Stick - used as base
2. MUA Undress Me Too Palette - using the colors Exposed (
highlighted in red
) and Corrupt (
highlighted in blue)
3. Coastal Scents Fluffy brush - from the 22 pc brush set
4. Rimmel Soft Kohl Kajal Eyeliner pencil - for the waterline
5. Maybelline Hyper Sharp Liner 
6. Rimmel Extra Super Lash Mascara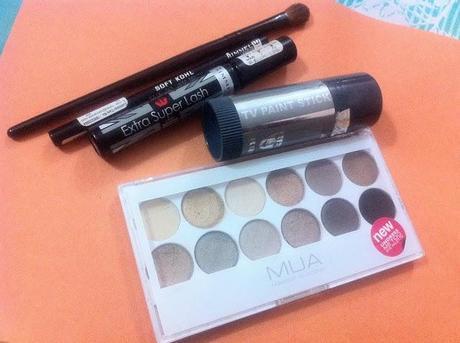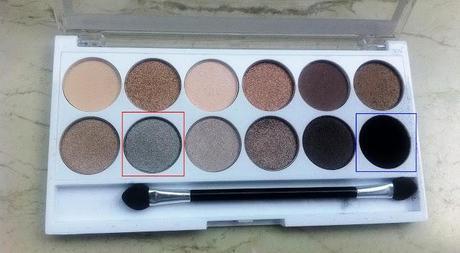 Here are the Steps:
1. 
Apply the TV Paint Stick all over lids. This works great for me as a base but you can use any eye primer/paint pot/concealer.
2. Apply the lighter shade all over the lids till the crease using a fluffy brush. In this look, I've used Exposed, a shimmery silver color
3. Now take the darker color and lightly draw an inverted C shape at the outer corner of the eyes using the same brush. I've used Corrupt, a matte black shade. Another alternative is to lightly just dab on a bit of the dark color at the outer corners and then blending it in. Make sure you 
don't
 take a lot of color on the blush or else it will be very difficult to blend and remember black is quite tough to work with. Start off with very little and if you want the look to be more intense, then you can build on it. Blending is the key to achieving this look and this is where the fluffy brush comes in handy. There should not be any harsh lines but the two colors should be differentiated. The lighter shade on the lids and the hint of black at the outer corners.
4. To add more definition, you can also line your crease with another dark color and blend it in but here I've skipped it and just stuck to two colors. 
5. 
Line your eyes with an eye liner or you can also use kohl or eye pencil. I used Maybelline's Hypersharp liner to line the upper lids.
6. 
Apply kajal on the waterline.
7. Apply 2-3 coats of mascara.
8. You are done!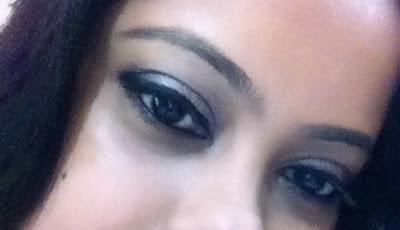 What do you think of this look? Would love to get your feedback :)