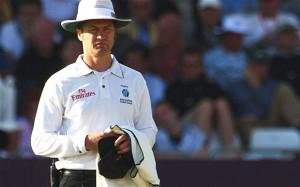 Australian umpire Simon Taufel to retire after ICC World Twenty20
Australian umpire Simon Taufel has decided to hang up his boots his career as ICC elite panel umpire after the ongoing World Twenty20 in Sri Lanka.
The 41-year-old will take up the new role of ICC Umpire Performance and Training Manager following the end of his thirteen-year outstanding as an umpire.
Simon Taufel won the ICC Umpire of the Year award for five successive years from 2004 to 2008. He also had the honor of supervising the finals of several ICC events including the World Cup 2011 between India and Sri Lanka.
Simon Taufel will be remembered as one of the most respectful umpires of game who enjoyed an immaculate career. Unlike his fellow-Australian elite panel umpires Darrel Hair and Daryl Harper, who faced the charges of racial discrimination during their careers, Simon Taufel has no such splotch on him.
The New South Wales-born Simon Taufel made his debut in 1999 with the ODI match between Australia in Sri Lanka in Sydney at the age of 27. Two years later he made his Test debut with the match between Australia and the West Indies.
 "Following the ICC World Twenty20 Sri Lanka 2012, I'm moving on from active international umpiring for personal and professional reasons. My wife and children have supported me immensely throughout my career and it is time for me to spend more time with them," said Simon Taufel.
"My passion for cricket umpiring and personal professional development has shifted from on the field to off the field. In my new position as ICC Umpire Performance and Training Manager, I look forward to help create professional programmes and resources to support the current and future generations of cricket match officials.
"The new role includes working closely with the National Cricket Federations which is really exciting as is continuing to work with the entire cricket community in helping the development of our cricket umpires."
ICC chief executive Dave Richardson and former and incumbent umpires paid tribute to Simon Taufel, who will be replaced by his compatriot Bruce Oxenford in the elite panel.