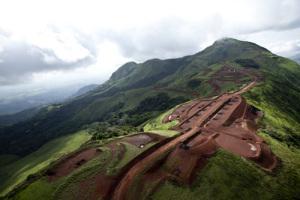 Simandou Mining project in Guinea Conakry – Rio Tinto picture
Rio Tinto, the global multinational which is involved in a range of mining projects across the world, is developing in the Simandou mining concession – Guinea Conakry, what will become the biggest production unit of iron ore in Africa, once completed. Many of us, when we hear about this mining company we think of it as totally western in its ownership. But apparently, Aluminum Corporation of China Limited (Chinalco) is its main shareholder. It does not however have the majority of shares to control the company.
I listened to and looked at the video clip presenting the Simandou project, all sounds promising, but one important element is missing. It is again another only extraction focused initiative. Nowhere in the different phases of the mining project is highlighted when the raw material derived from Guinea soil will be transformed locally. Understandably, if China is involved, the raw material to be extracted might end up mainly in Chinese factories to supply the needs of Mao and Confucius' country, which is today competing with US to become the next global economic power.
It's already 10 years that the Mining Convention between Rio Tinto and the Guinean government has been signed. Work on the ground has been ongoing quite well but there are still some years to go before effective extraction starts. In order to avoid the shortcomings of other mining projects on the continent, it would be important for the authorities of the country to begin undertaking feasibility studies for transforming the raw material to be extracted soon locally, if not all, but at least part of it.
From first impression, the Simandou project has been devised to have all its production exported. But a progressive and industrialization focused Guinean government should take determined steps to bring together necessary partnerships, be it local, regional and even international around a table to discuss the next phase. In fact, unless African countries engage themselves firmly in adding value to their resources, they might continue making others richer at their own expense.
I had this reflection recently. It is Africans' enemies, or at some extent those who want to take advantage of them, who see what Africa has as valuable to fight for it. Africans seem not to effectively know how valuable is what they have to defend it vigorously. In recent years, there has been the talk about Africa being the land of prosperity. And western countries are putting in all their energies to control it, sometimes fomenting wars or rebellions to achieve their aims. China has its own approach of looking away about human rights violations.
Though the Simandou project is already showing positive signs of what it could become for the Guinean people and their government, there is more that could be done with those invaluable resources the country has. It's somehow acceptable to see involved investors like the International Finance Corporation (IFC), the private sector arm of the World Bank, which owns a 5 per cent stake of the Simandou project. It shouldn't be allowed to have more than that.
Guinea government needs to think strategically to add more value to its iron ore, in order not to be importing from China products the country could be exporting itself in the long run. It takes the determination and boldness of the leaders to do what it takes to become a developed nation. As The Australian source writes, "Simandou is a 2.2 billion tonne, seriously high-grade iron ore deposit that has the potential to make both Rio Tinto and Guinea an awful lot of money."
But would it be rightly fair for Guinean people to only own 20% of something sitting under their national soil when other countries such as Mongolia and Zimbabwe are looking at asking more than 50% of the ownership for investments in their mining concessions? As a government, would for Guinea Conakry be economically profitable to let an asset be unproductive or sell it to any buyer? That is the dilemma some countries are confronted with, torn between the needs of development and throwing away cheaply their raw minerals.