Summer always brings out the gold accessories.  I know gold looks great with a tan but personally, I love silver.  I've always preferred it to gold and that doesn't change for me in the summer months.  In about a week and half we are leaving for our annual summer beach trip.  I've started thinking about the things I'm going to pack and how I want to be more simple than in years past. A few great accessories can carry me through the whole week. These silver beauties fit that bill perfectly.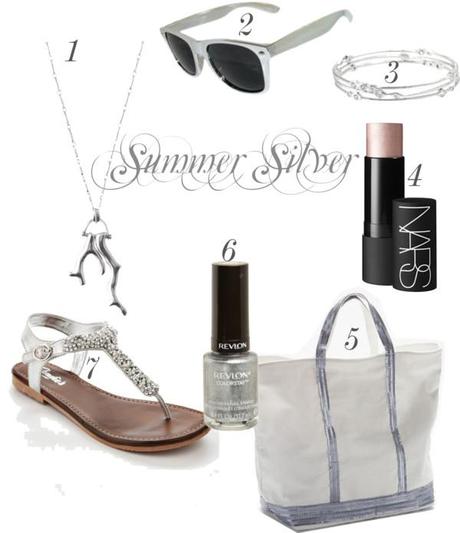 1) Stella & Dot Valen Pendant Necklace, $39 - This necklace is the perfect mix of class and beach.  The coral like branches are pretty but not over powering for a beachy outfit.
2) Wayfarer Style Sunglasses with Metallic Finish, $5.99 - A fun alternative to the traditional black wayfarers and so affordable you can buy them in more than one color.


3) Stella & Dot Devi bangles, $44 - These are the perfect compliment to the necklace or you can wear them alone with shorts and a tank.




4) Nars The Multiple in Copacabana, $39 - Make up that does double duty is a must for me at the beach. I never wear foundation and like to only carry a few products with me. This can be used for eyes, lips and cheeks and it has a pretty sheen to it that brightens your skin.




5) Silver Sequin Canvas Tote Bag, $20 - A roomy but pretty beach bag is a must. The house we rent is about a block from the beach. I always cart my book, towel, sunscreen and water with me.  This bag is perfect.




6) REVLON Colorstay Nail Enamel in Sequin, $4.40 - I love this metallic silver polish. It's neutral and it's long wearing, which means it will survive the week on my toes, fingers or both.




7) Candie's Thong Sandals, $36 - A great silver sandal is my perfect beach footwear. You can wear it to the beach during the day or out to dinner at night. 

As I get closer to leaving for our beach trip, I'll tell you more about what I'll be taking with me.  What are your favorite beach accessories?