I have a bit of a soft spot for models of old street cars with big numbers written on the driver's door. It just speaks volumes for the mindset of the car owners. "Don't worry about any fancy preparations, just fill out the entry form, write a really big number on the door and let's go street racing." The longer the race the better: 1500km (roughly a 'thousand miles') was a good distance to traverse, and that's what the Mille Miglia was all about, from 1927 through to 1957, when they shut it down after a terrible accident where both drivers and spectators died.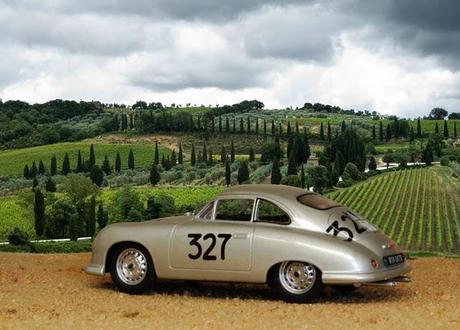 This Metro 1:43 model of the Porsche 356 is of a car which competed in the 1952 Mille
Miglia, so I thought a nice little photo of it in the northern Italian countryside, filled with
vineyards and pencil pines, would look appropriate. This car is quite an early 356, one of
the ones with a split windscreen. While I do know that this car was powered by a 1.5 litre
flat four, I won't pretend that I know all that much about Porsches. I just like the look of
them, and so I thought two You Tube videos are needed to do this lovely old car justice.
The first one is just a lovingly restored old car being started up, driven out of its Swedish garage, then cruising the streets for a while, then returning home. It's nicely shot and it's a lovely car. Here it is.
The second one is a German clip that shows the car off well, but what I particularly like about the footage is how it captures the skinny tyres of this old timer. I've seen original old 356 Porsches on the streets and marvelled at how they got along on those tyres.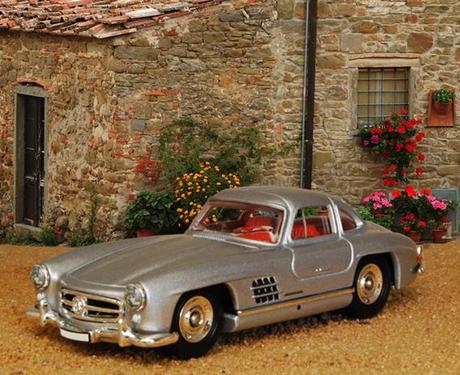 This Mercedes Benz 300SL Gull Wing is actually just a spectator at the 1952 Mille Miglia,
but there were two there in competition that year,where they came home in second and
fourth places. I've pictured this one at the charming old stone pensione where its owners
stayed the night near Brescia. This car is so famous and so written about that I don't
need to tell you much about it that you don't already know. By the way, this 1:43 model is
made by Dinky. I whited out the 'Dinky' name on the numberplate, because it looked naff.
It was a hell of a car for its time. I always find it astonishing that the German car industry not only recovered so quickly from the devastation of the Second World War that it was producing cars of any sort again, but they were actually producing the world's fastest production car, good for 250km/h (160mph), and the world's most innovative car, with the first fuel injection and, of course, those signature gull wing doors.
When searching for a suitable You Tube video to finish off the Gull Wing posting, I found a lot of people pussy-footing around in their rare and expensive old Gull Wings, or wandering around parked cars that were going nowhere fast. And then I stumbled across one of my favourite Australian TV motoring shows, hosted by the late Peter Wherrett. Now Peter knew how to drive cars, and in this little clip he punts the Gull Wing Merc through a few corners out on the open road in a sporting manner. Driving the car the way its lucky owners drove it in the 50s, before any of them knew they had a million dollar classic in their hands.