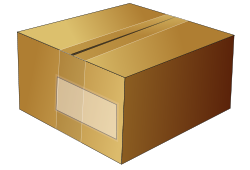 Image via Wikipedia
Yesterday I drove to a store I enjoy – Pier 1 Imports – I saw a bowl there a week or two before I thought would be a perfect gift for a friend and I needed a wedding gift too – after I got there I decided I would buy another wedding gift I needed for later this summer – I was there after all.
However I wasn't at the Pier 1 store I had visited prior – I went to a different Pier 1 and the woman who helped me was very timid – very fearful acting.
As I was stacking up my purchases I said, "I'm sure you can put these in boxes for me like they did for me last time – they are gifts."
She hesitated, "I'll have to ask" she said. "I think they cost something." And off she went to ask.
She came back with her manager, he looked at my purchases and then at her and never once looked at me and said, "Yes, for that size purchase charge a dollar a box."
I smiled at this timid woman and said, "Actually, I will just buy the one gift I need most and pay for that box."
She didn't know what to do – she had already wasted my time having to ask about charging for the box and didn't seem to know how to assemble it – I was not waiting. If I didn't need the one gift I would have simply left.
Another sales person came to ring me up – they weren't busy and with this kind of service it's no wonder why. This new women didn't know how to charge for the box so the manager was called again.
As he noticed I was not buying the rest of my selections he finally looked at me and said, "We could discount these items to account for the boxes."
I smiled and said, "No thank you, I'm done."
Lessons:
Are you and your team prepared to actually SERVE your customers? That means having some confidence, knowing you can take initiative and pleasing someone who wants to give you money?
Are you hurting your reputation by focusing on tiny costs rather than stellar service?
Have you considered how you want a customer to feel as they interact with you and your store or service? How do you want them to feel?
As I drove away I shared with my husband what happened and we both marveled about how stupid it was and how we wouldn't go out of our way to visit this store again. So the manager didn't simply lose out on today's purchases – he's lost out on all the others I might have made had he simply decided to give a little extra and make sure the things I bought were put in gift boxes – gift boxes with the store logo on them.
Remember, you create your day by the way you think. Think bigger – do better!
Make it magnificent!
Blessings, Shawna
www.RelationalResults.com