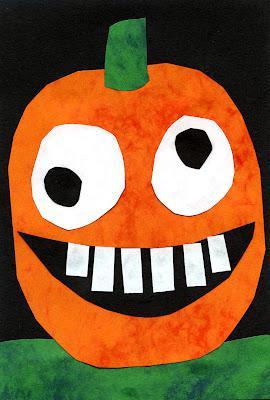 Thanks to this art teacher's wonderful posting over on Flickr, I'm going to have my students do a one day version of it with this new Creatology Marble Paper I found at Michaels today. Normally construction paper just doesn't excite me, but this stuff is pretty cool as it looks a bit handmade.
1. Start with a sheet of black, orange, green and white paper. Cut a strip of grass out of the green and glue it to the bottom of the paper.
2. Fold the orange paper in half and cut out a circle. Glue it down, and add a green stem on top.
3. Cut out white circles for the eyes, and a black mouth. Glue down.
4. Cut black circles for the eyes, and strips for the teeth. Arrange to make as silly as possible and glue down.