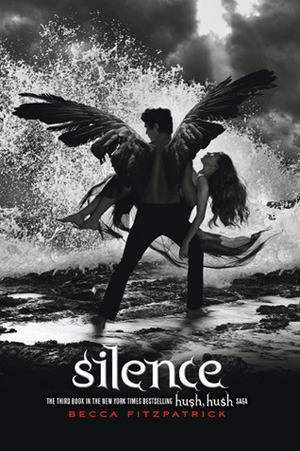 Summary: WHEN SILENCE IS ALL THAT'S LEFT, CAN THE TRUTH FINALLY BE HEARD?
Nora Grey can't remember the past five months of her life. After the initial shock of waking up in a cemetery and being told that she has been missing for weeks – with no one knowing where she was or who she was with – she tried to get her life back on track. Go to school, hang out with her best friend, Vee, and dodge mom's creepy new boyfriend.
But there is this voice in the back of her head, an idea that she can almost reach out and touch. Visions of angel wings and unearthly creatures that have nothing to do with the life she knows.
And this unshakable feeling that a part of her is missing.
Then Nora crosses paths with a sexy stranger, whom she feels a mesmerizing connection to. He seems to hold all the answers…and her heart. Every minute she spends with him grows more and more intense until she realizes she could be falling in love. Again.
I finished the second book in the series, Crescendo, about two years ago so it took me a little while to get myself back on track with the story. There was one thing I'd forgotten that I quickly picked back up on though. And that is how annoying Nora is. She always complains about everything and the whole time I was reading I was just waiting for her to go off again. Aside from that slight annoyance I really enjoyed the book.
Not only did I appreciate the sarcasm that is not often found in books but I also really enjoyed the romance of the story.Patch is not your average love interest but he's one of my favorite characters. Honestly he's probably the only character I like. The others are either sketchy, weird, annoying or have some other bad trait. Maybe it's just me, but Patch makes the book what it is. He is not only romantic and loving but he also adds darkness and mystery to the book.
Silence was filled with action that had me bouncing my leg with anxiety. While this book is paranormal I don't think the genre is the reason I enjoyed it. I haven't been in a paranormal-book-reading mood as of late so I was more focused on the relationship part of the story instead of the whole fallen angel thing that I just wasn't into. I've been feeling burnt out on series lately, preferring to read about many different characters rather than the same over and over. Even though I liked the book, I think I would've enjoyed it more had I read it at a different point in time.
I would recommend this book to both guys and girls and especially those who enjoy Twilight by Stephenie Meyers. I think anyone who reads this would agree that this is the fallen angel version of Twilight.