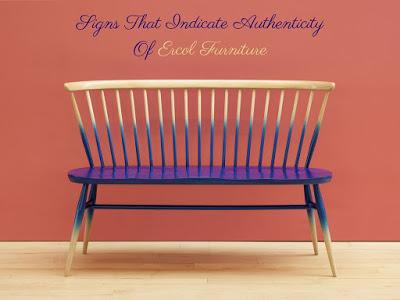 As many of us know, Ercol is one of the most popular brands of British vintage furniture. It has been in existence for over a century now, standing the tests of time with its top notch pieces that have excellent design and are made of high quality materials. Still now, many people try getting their hands on pre-owned Ercol pieces just so that they can furnish their homes with these symbols of high end workmanship. However, the market is filled with fakes and replicas that are sold at sky high rates in the name of the famous vintage furniture brand. 
Fortunately, one can stay away from such scams by being aware of certain signs typical of Ercol furniture. Let's see what those signs are:
Signature Characteristics
It is a highly prudent move to familiarise oneself with the signature features of Ercol when shopping for its secondhand versions. PIeces belonging to the era of the brand's inception are usually made of figured oak and have intricate carvings. On the other hand, the chairs produced around the 1960s have rear spindles and legs sloping outwards. In addition to that, any Ercol furniture has a highly solid and sturdy feel to it. Moreover, it would always be made of either elm, pine, beech, walnut, oak or ash.
Ageing Signs
Just like any other furniture, Ercol pieces age over time and the signs indicating it generally include slight changes in tone, color fading, slight wear & tear in places and so on. In general, most Ercol furniture items have light or dark finishes that may get altered to a similar beautiful tone with passage of time. Such things are not at all major issues, and can be resolved with the help of any reputed firm offering the service of Ercol restoration.
Markings
There are certain markings unique to Ercol and they can definitely help in differentiating a fake one from an original piece. These markings are generally in the form of stamps, labels and badges. If one wishes to study about these markings in detail, they will have to do a bit of research over the Internet.
Drawers & Doors
Ercol furniture always have adjustable screws on their drawers and doors that can be used to align them properly so that they do not get stuck. This is because temperature fluctuations can expand or shrink the wood during summer and winter respectively.
Thus, these are the signs that can help to identify an authentic piece of Ercol.