Sigma is a brand I have always wanted to dabble in due to the praises their brushes receive, but I have kept my distance as it is a US company and international shipping costs always scare me off. So you can imagine my delight when I was offered the chance to try out one of their brushes, this being the very popular F80 Flat Kabuki. I was so excited when the package arrived and before you know it I was whipping out the foundation to give the brush a try.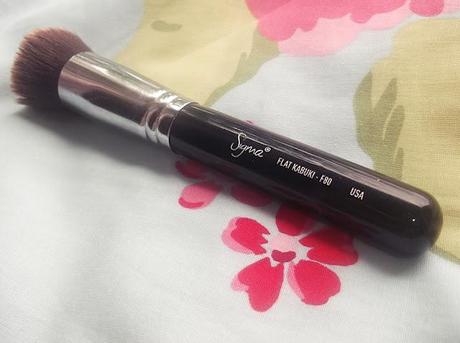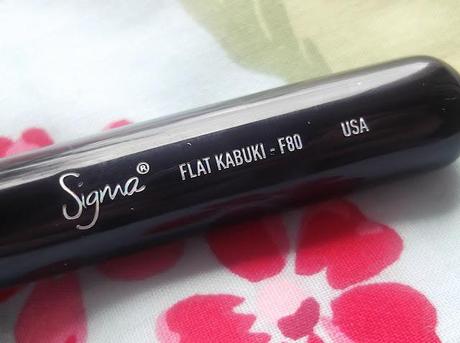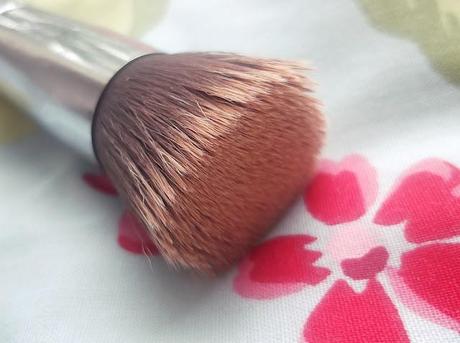 Sigma F80 Flat Top Synthetic Kabuki $16 (*)
The F80 is a dense flat top kabuki brush with synthetic bristles and I find myself loving the simplistic look of the sturdy black handle and holographic font (yes, it really is the little things that get me!). The bristles are so soft to touch and so densely packed that any liquid foundation has no escape when being buffed in which is always great as it really does give you that very sought after flawless finish. Light buffing motions are enough to ensure that your whole face is covered and with the brush absorbing very little foundation, you really only need a small amount to achieve that flawless coverage.
When comparing the F80 to the Real Techniques Buffing Brush (pictured and reviewed here), it is clear that they are similar in design and overall shape. The Sigma F80 is a lot more dense which I love for those days when I need that extra bit of coverage, with the Buffing Brush being reached for when I am using a lighter foundation or BB cream. I couldn't really pick a favorite as I use these brushes alternately for different purposes although at the moment I think I'm favouring the F80 more as my skin seems to be playing up with spots taking over my chin. 
All in all I am very impressed with the Sigma F80 and am so glad I have been able to try it out after all this time! If you are looking for a great buffing brush for your foundation I would definitely recommend it, especially those of you who may require that extra bit of coverage and a more even finish to the skin. While the shipping costs are still a turn off for me, I should hopefully muster up the courage to order some more Sigma brushes at some point in the future as it has been a pleasure using the F80.