Sightseeing in Paris, with wind in your hair
The Paris metro is fantastic for getting around the twenty arrondissements of Paris, with metro stations all at walking distance from almost anywhere.  But there's another great way of seeing the sights, one which will leave you with great flexibility in your travel itinerary, and a little wind in your hair too. 
Enjoy Seine river tours with the hop-on hop off Batobus and see all the sights in one day, or over a period of a few days.  Taking a circular sweep of Paris on the Seine, the eight stops include the Champs Elysees, the Louvre, Hotel de Ville, the Eiffel Tower, Musee D'Orsay, St Germain des Pres, Notre Dame and Jardin des Plantes. 

Frugal, Fun & Flexible Sightseeing in Paris
The Batobus tickets offices can be found along the river or at the Paris Tourist Office, and tickets start at €14 for a one-day pass.  With both the Metro and the Batobus service, you can make fast coverage when sightseeing in Paris, and the best thing about the Batobus is that you can hop on and hop off at any time of day. 

Personally I love the Paris Metro (because it makes me feel like Amelie Poulain), so I would recommend at least a day travelling by Batobus and at least a day travelling by the Metro.  Both are cheap ways to travel around the city and you can also do a lot of sightseeing in Paris on foot.  The best places to grab a glass of wine are found walking around the narrow backstreets of the Latin Quarter or strolling along the winding roads of Montmartre. 
The Beautiful Sights of Paris!
From the spectacular steel sights of the Eiffel Tower and the imposing gothic wonder of the Notre Dame cathedral to the elegant surroundings at the Louvre and grand stretch of the Champs Elysees, the Batobus puts you almost at the doorstep at each of these – and with a great view en route!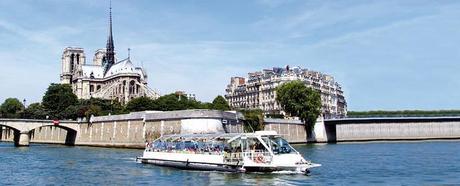 Soak up the views from the back deck of the Batobus and capture glimpses of the city's architecture that just can't be enjoyed on the ground.  Without a doubt, the hop-on hop-off Batobus is the best and most flexible form of transport for sightseeing in Paris, and if you ask me, anyone who jumps in a taxi will have to sacrifice a beautiful view of the Seine. 

Enjoy sightseeing is Paris!
Follow The Smart Girl's Travel Guide on Facebook for more travel tips! x