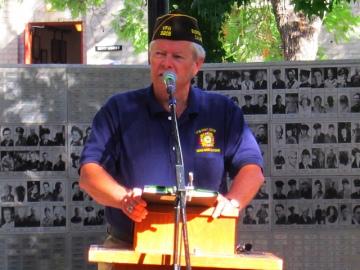 Harold "Doc" Martin of Temple City speaks about coming home from the Vietnam War at a Veterans Day ceremony in front of the Sierra Madre Veterans Photo Wall in Memorial Park – Photo by Jim E. Winburn
Although friendly and full of humor, Metzger was pressed by this reporter for a little more insight into how today's generation regards the value and sacrifice of serving one's country.
With a more sullen tone, the proud old veteran replied: "We have a lot to learn to get along with each other."
However, for the fifty-plus people attending Sierra Madre's Veterans Day ceremony in Memorial Park on Sunday, there was nothing less than respect and recognition given to those who shared their coming home stories with the public.
Speaking in front of the Sierra Madre Veterans Photo Wall in Memorial Park, Harold "Doc" Martin of Temple City talked about coming home from the Vietnam War and the struggle to adjust to a new world.
"You know how we have Memorial Day for those who lost their lives? And we have Veterans Day, like today, for those who came back? Well, I often think maybe we should have a third day for those whose bodies came back, but their spirit did not," said Martin, a Vietnam veteran who currently teaches courses at Pasadena City College for veterans returning from overseas.
Martin outlined the need for veterans to continue pursuing a sense of comradeship upon returning from duty overseas. Having a buddy to lean on is especially important when facing growing apathy in a modern society that fails to connect personal freedoms with those sacrifices made by others.
"There is a great disconnect – like politics today – a tremendous division," said Duncan MacGillivray, Sr. Vice Commander of VFW Post 3208. "As a veteran, I see lots of patriots committed to that end. On the other end, there seems to be a section that doesn't seem to care; they don't understand what we're going through."
The Veterans Day ceremony also marked the unveiling of an additional 14 photo wall engravings added to the Sierra Madre Veterans Photo Wall Memorial. Hosted by members of VFW Post 3208, the Memorial Park gathering also included Sierra Madre Councilman John Capoccia and former Police Chief Marilyn Diaz in attendance.
After the ceremony, local residents and family members attended a photo exhibit at the Hart Park House Senior Center that featured members of VFW Post 3208 by Debra Snell Photography.
At the Veterans Day "Pride & Pain" photo exhibit and fundraiser, VFW Post 3208 member Brian A. Neumann, who partners with the Pasadena City College Veterans Club to offer support for veterans in the community, likened the photos to the personal struggles and transformations that veterans experience when adjusting to civilian life.
"I see these kids coming back from Iraq and Afghanistan, and they're trying to assimilate into society – I can't imagine what's going on in their heads," said Neumann.
According to Snell, the event was a fundraiser to support the ongoing efforts of VFW Post 3208 to assist fellow veterans, while helping to support the community. "They spend their lives early on serving and then continue to serve in the community," said Snell, whose own father, Mike Didomenica, 97, is a WWII veteran.
Snell said her personal highlight of the event was when the veterans found out that they could keep the framed portraits on display at the exhibit.
Debra Snell's 'Pride and Pain' veteran photos may be viewed on her social media page at www.facebook.com/DebraSnell.Photography.
Observed each year on Nov. 11, Veterans Day, which honors the service of veterans, is celebrated in conjunction with Armistice Day and Remembrance Day in other parts of the world. Veterans Day marks the anniversary of the end of World War I, when major hostilities were formally ended at the 11th hour of the 11 day of the 11th month of 1918.
To learn more about Sierra Madreans who have served in the armed forces, visit www.sierramadreveterans.org.