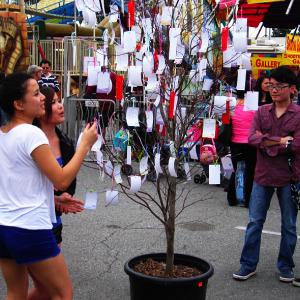 Celebrating the Lunar New Year, visitors make a votive offering by writing down a wish on a card and tying onto the Wishing Tree – Photo by Jim E. Winburn
This is almost double the 100,000 expected by city officials to celebrate the Year of the Snake.
The historical precedence in attendance met the city's expectations to feature more than 200 booths of food, specialty gifts and services for one of the valley's largest and most popular regional events.
The weekend celebration took place at Garfield and Garvey Avenues in downtown Monterey Park, spanning five blocks. Guests were treated to many New Year activities, including the Wishing Tree at Garvey and Lincoln Avenues, where visitors wrote down their wish on a card and tied it to a tree as a votive offering.
Dozens of professional and amateur performers provided live entertainment on two separate stages at the event, entertaining thousands of onlookers who overflowed into the streets and packed themselves between vendors. Some vendors even got into the act themselves, such as members from the Sunrise House of Prayer in Alhambra, www.sunrisela.org, who performed a religious skit, showing spectators the way to salvation.
The festival was co-sponsored by the World Journal, one of the most influential Chinese-language news outlets in North America.
Konan Tien, an advertising manager at the World Journal, coordinated the event with the City of Monterey Park. Tien said that this year's popularity is due to the Journal's advertising and outreach in Chinese communities from New York to Los Angeles.
"A lot of our readers in those areas will tell their friends in the Los Angeles area that this is the biggest Chinese New Year celebration there, and you should go there," Tien said.
He said more people than ever also had turned out this year due to their advertising campaign that included many local English and Spanish newspapers, as word traveled through the community from Canoga Park to Orange County.
"We wanted to not only reach out to the Chinese community, but wanted to spread our outreach to more diversity – so anybody can come over and celebrate together and learn more about Chinese culture," Tien said. "More and more people are becoming anxious to learn more about the Chinese culture, which is why I believe more people are turning out to the festival."
But according to Tien, his real achievement in helping to coordinate the festival was the role he played in procuring "happiness" for everyone else.
"I feel the achievement of seeing a lot of people happy – happily coming to celebrate an event, and going home happy," he said.
Another marketing expert enjoying the Lunar New Year was Douglas Tchang, an account manager with Verizon Wireless out of Irvine, Ca.
Tchang and his sales team held 15-minute seminars for guests, talking about tablets, mobile data devices, phone apps and free texting. He said he had talked to hundreds of people that weekend, but was surprised with one particular visitor – as a Lunar New Year celebration tends to be filled with surprises at times.
"It was really cool to see my father here. This is really the kind of an event that brings the family together," said Tchang, explaining that his father had returned from China a few weeks ago, but this was the first time they had met since he had been back.
The official date of the Lunar New Year 2013 is Sunday, Feb. 10. The 2013 Year of the Snake will run through Jan. 30, 2014.
In China, it is also known as the Spring Festival, becoming an occasion for families to gather for the annual reunion dinner the evening preceding the Lunar New Year Day.
According to the Chinese Zodiac, the Snake, one of the 12-year cycle of animals appearing as the sixth sign, characterizes steady progress and attention to detail. Focus and discipline are highly esteemed virtues for the person born under this sign to achieve what they set out to create.