"Beckmesser Man", a Parody.
(with apologies to Richard Wagner, John Flansburgh and John Linnell.)
 This post is for my good friend Kelly Rach.)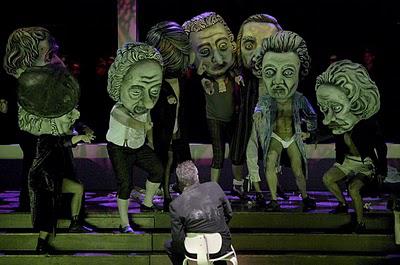 Hans Sachs (Franz Hawlata) tells great composers about this awesome parody.
Image from the 2009 Bayreuth staging of Die Meistersinger von Nürnberg.
A totally unauthorized parody of "Particle Man" by They Might Be Giants from the album Flood
Original copyright @ 1990, property of Elektra Records.
Beckmesser man, Beckmesser man.
Beckmesser man hates noble man.
For the song contest, he has a plan.
Beckmesser man.
David man, Apprentice man,
David man sees Beckmesser man.
Hits him on the head with a garbage can,
Night-watch man.
Hans Sachs man, Hans Sachs man,
Sings about the world's wahn, man
Slaps David with his left hand,
Journey-man.
Cobbler man, Tailor man,
Big chorus sung for Hans Sachs Man
Wachet auf! Then the cobbler's plan
Deutschen mann.
Contestant man, Contestant man,
Walther von Stolzing's got a plan.
Get up and sing, with the bride he ran,
Elopement man.