"We have different gifts, according to the grace given to each of us. If your gift is prophesying, then prophesy in accordance with your faith; if it is serving, then serve; if it is teaching, then teach; if it is to encourage, then give encouragement; if it is giving, then give generously; if it is to lead, do it diligently; if it is to show mercy, do it cheerfully."

Romans 12:6-8
Anytime I read about spiritual gifts or living out Gods purpose, I am engrossed. I read it, re-read it, and listen for what is loudest in the passage. If I don't pay attention to ways God can use me today, in the present, I am straining to know what my future career looks like and it is blinding me.  I think that coming out of college with uncertain career plans, is a big reason we loose sight of what it is we, as Christians, were made for. The anxiety that comes with not knowing where you want to work, what you want to do, or even wondering if you will land the job you want, deters us from seeing the opportunities we already have to live out God's purpose and love people. 
I was blessed this weekend with the best experience I have ever had helping a little girl.
There was a horse show at Whispers of Hope and I went early to help get the horses ready and assist the kids with anything that they needed help with like polishing hooves, brushing high places, pinning numbers to their backs, and holding their horse while they took a potty break. Competing in horse shows is game day for these kids. It is what they have worked hard for earning their place on show team by putting in long volunteer hours and weeks of practice. For many it was their first show, so excitement and nerves were pretty high. Even the mellow older horses seemed to gain a burst of energy, as well as, some spirit in their eyes.  My adrenaline was boosted up a notch as I was reminded of what it was like to prepare for a show.
The waiting area was packed and I was in charge of the beginners showing for their first time. Yikes! First time showers need a lot of instruction and I was getting nervous for them. Mary Elizabeth explained the class line-up, halter first and than showmanship. I answered questions as kids yelled them out and encouraged them to keep their chins up and smile. Things seemed to be going good. I felt like the kids seemed fairly confident until I noticed a little girl with a painful look on her face, and I just new the tears were going to come any minute.
She was worried about the showmanship pattern. Showmanship is a class that is judged on the exhibitors ability to show their horse from the ground and execute a clean pattern. Many factors go into how you will be judged in a showmanship class, but a biggie is a clean pattern. I did my best to calm her down and took her to a vacant area to practice. I had her tell me the pattern out loud, walk the pattern without her horse, and then do the pattern with her horse. We even broke the pattern up into steps spending a lot of time on the pivot. She was still worried, but I think she felt a little bit better after that.
When it was finally time for her class, she was standing tall with her chin up. She executed a very smooth pattern and won her very first showmanship class. Watching her go from fear and worry to shear joy and relief was the best feeling I have ever had!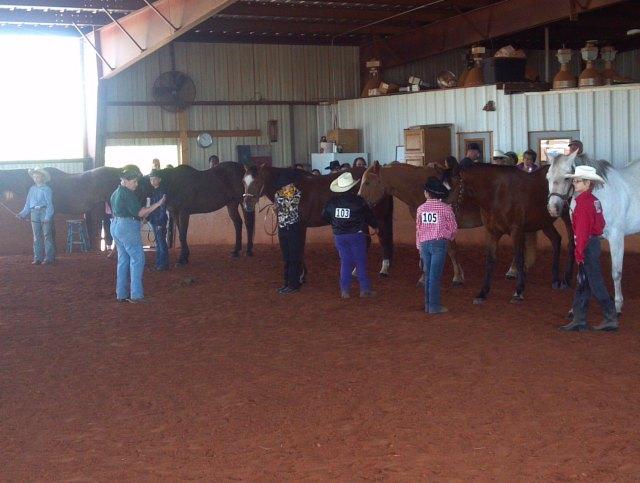 Emily is number 103!
It kind of makes me think of how God must feel when his children, who are walking in fear, decide to step away from their fears, walk in obedience and trust in God. I know he wants to give us a reward for our obedience because he wants to celebrate with us.
"So the LORD gave Israel all the land he had sworn to give their forefathers, and they took possession of it and settled there. The LORD gave them rest on every side, just as he had sworn to their forefathers. Not one of their enemies withstood them; the LORD handed all their enemies over to them. Not one of all the LORD's good promises to the house of Israel failed; every one was fulfilled." 

Joshua 21: 43-45
If I would have been worrying about finding a job, or contemplating what I was supposed to be doing in life instead of just doing what God repeatedly asks us to do (love people, serve people, share Jesus with people) than I probably would not be spending time at Whispers of Hope. I would be fighting my own battles instead of trusting God to clear a path for me. Most importantly I would be missing opportunities to let God use me in other peoples life.
This past weekend was a revelation for me. The more I step back and trust in God the more I see Him using the gifts He has given me. Plus, I love how God teaches me as I try and teach others. Such a joyful experience.