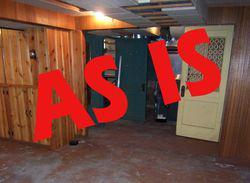 If you are dealing with an estate, especially a property that needs extensive updating but is paid for in full, selling it AS IS can be a good option. Buyers interested in a purchase of this kind are often cash buyers who can close quickly... but they also expect to pay rock bottom price.
If price is your primary concern, this likely isn't your best option. However, if closing quickly with a minimum of work is your primary goal and you are willing to take a lower price to compensate for that, selling AS IS could be a good option... especially if you have a ready buyer at hand.
If your target market is first-time homebuyers this may not be the best option if non-cosmetic updates are required because they may have trouble getting financing... but this kind of property typically fits right into the plans of cash rehab buyers.
To help evaluate, calculate the time and money you would invest in fixing the property... the cost of time on the market... and how it would impact your cash flow/investment plans if you cashed out quickly.
Just as with all decisions, it will be the right fit for some... but not for others. If the home is structurally and mechanically sound, sometimes a small investment in minor updates can make a huge difference in price and buyer appeal.
Sharlene Hensrud, RE/MAX Results - Email - Minneapolis Listing Agent