I know we all wish that we had an unlimited supply of money in order to keep up with every new product release in the beauty world, but sometimes you just need to take a step back and make the most of what you already have in your stash. Shopping the stash posts have always been popular ones as they give you an insight into the products that people are rediscovering and sometimes even falling back in love with. I thought it was about time I had a look through my makeup stash and pull out a few bits and bobs that now happily live in my everyday makeup bag and will be getting a lot of use over the next few weeks (at least). Here's a little peek at the products that I've been reaching for again.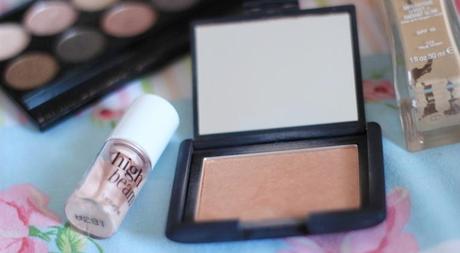 Benefit High Beam: The summer months always seem to bring the need for dewy looking skin and highlighters are a great way of really making your face glow, whether the sun is actually out or not. I tend to reach for powder highlighters but I've now fallen back in love with this liquid highlighter from Benefit as it looks so natural on the cheekbones and the lasting power is also impressive. High Beam leaves a pretty pearly glow on the skin and does very well at complementing my paler complexion.
NARS Luster: I go through phases of using this blusher to death and then moving on to the next big release, but I'm now back to loving Luster as it's the perfect apricot shade for me. If you saw my stash of blushers you'd definitely know that I'm more of a fan of pinky peach shades as opposed to orange toned blushers, but this blusher is an exception as it leaves such a pretty color on the cheeks and also does a nice job of adding a subtle highlight due to the light shimmer in the powder.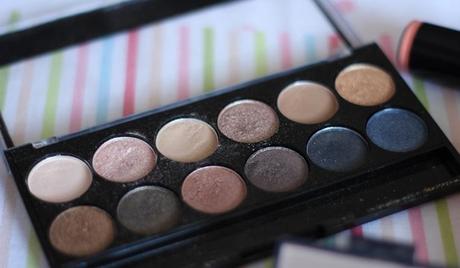 MUA Undressed Palette: I used this palette to death last summer (although you really can't tell from the photo), and it's now making a welcome return this year. I've become a bit lazy with eye makeup as I just rely on cream shadows but I've decided to make more of an effort and even find myself a nice smokey eye combination that's suitable for everyday wear. The colours in this palette are perfect for me as I'm a neutrals girl through and through.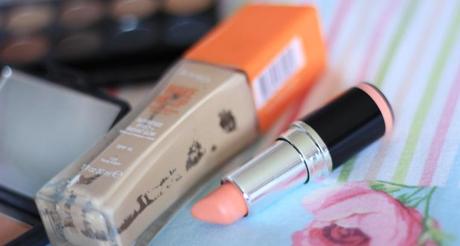 Rimmel Wake Me Up Foundation: Again, this foundation was a staple in my makeup bag last summer and saw me through 10 days in scorching hot Turkey. The formula of this foundation is great for giving your skin a boost due to its very subtle shimmer, but there's no need to worry as it still leaves your face looking very natural and not like a discoball. I have it in the shade 103 True Ivory which is slightly too dark for my skin during the winter but I'm glad I can now get it back out in time for summer as my face has a bit more color thanks to a bit of sunshine.
MUA Lipstick in Shade #15 (Juicy): I've always been a big fan of the MUA lipsticks and this shade has been one that I've gone backwards and forwards with as it's such a pretty pink toned peach. I got a bit caught up with my MAC lipsticks which meant that this one got neglected, but now it's time to give it another go! What's even better is that the MUA lipsticks are just £1 and great quality at that.