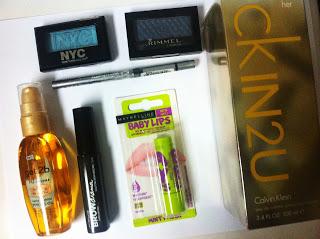 Hello lovely people!
I have been shopping today, 
to my local shopping center and picked up a few pieces to show you. 
I will start with the Got 2 B argan oil spray- I picked up this spray as I really like the one I showed you in my previous haul although I am not keen on the smell so I hope this one might be made with a different scent. This product cost me £2.66 at my local Morrison's- and promises to give me "Sleek, Glossy Styles" so I hope it does the job! Next, I purchased the Maybelline Brow Drama in Dark Brown. I normally pencil or powder my eyebrows to fill them in, then go over them with my ELF Brow Gel. I thought this product would save me two steps in my makeup routine which is always handy as I am a student! This was £4.99 in Boots. As you all know I have been looking for the Mint Babylips by Maybelline since I picked up the rest of the collection. I finally found this when I was buying the Brow Mascara tucked away in a little shelf, and I couldn't let it go. I cant wait to use it in the winter.
My big purchase of the day was the CKIN2U perfume by Calvin Klein, I purchased the 100ml bottle also from Boots. This was a steal at £20 I couldn't resist. I haven't tried many of Calvin Klein perfume scents, apart from Euphoria so this was an impulse buy for me. It has a sweet floral scent, which is slightly fruity. I'm terrible with perfume, I use a good amount every day and always end up with non left!
My bargain of the day was the NYC and Rimmel products you see at the top of the page. I ended up going into Semi-Chem on my way home and picked up a few bargains. I bought the Automatic Eye-pencil by NYC in Plum Perfection, NYC City Mono Eye-Shadow in High Street (913) and Rimmel Glam Eyes Mono Eye-Shadow in Enchantment (440). Both eye-shadows were a steal at 89p each and the eyeliner only cost me £1.00! I'm not entirely sure when I am going to use the eye liner but I thought it was a nice alternative to my go-to black eyeliner.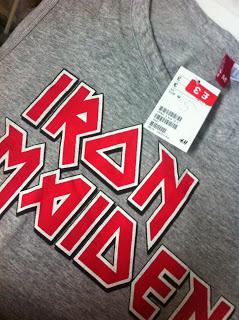 Last but not least I picked up this Iron Maiden tank top from H&M. This was a complete bargain in the sale section at £3. It's quite long so I think I will style it with leggings and a pair of Converse. There were loads of beautiful items in the sale in H&M but I tried to limit myself as this was the first shop I went into! 
Thanks for reading guys!

x