Just call me a stalker! When I have my eye on something, no matter how tempted I may be to pay full price, I go into stalk mode to get something at the very best affordable price. Here's my story because you know I always got one. About 6 months ago in the dead of winter, I spotted this Juicy Couture Freya tote. I immediately fell in love with the color bombshell which is basically a coral color. I debated whether I should pay the $298.00 retail price or wait. I opted to wait because in all honesty that tote wasn't going out anytime to soon in Chicago's winter. It's definitely a bag you carry during the winter months.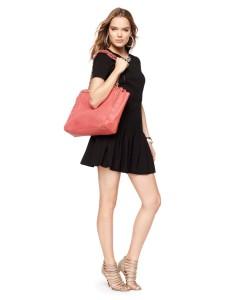 juicycouture.com
Let's fast forward 6 months to June 2013. I was looking for a stylish and cute tote to carry during my summer events. Once again, I ended up on Juicy Couture and seen that this bag had been marked down to $104.00 more than half off.  I still didn't jump on the deal because I wanted to see if anything else caught my eye. After 4 days of searching and going back and forth on Juicy Couture website, I finally purchased this tote for $83.00. I decided to go on Google and do a search for Juicy Couture coupons. I came across a coupon that gave you an extra 20% off on your purchase of $100.00 or more.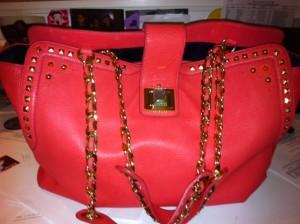 Here's my shopping tip for the week! Even if an item is on sale do a Google search for coupon codes that may save you more money off an item already on sale. There are specials and coupons that are not advertised so sometimes we need to do a little work to save an extra buck.
I love this tote! The quality of the leather is excellent for the price. The color pops and the gold studs and chain ads to the beauty of the bag. It also paired perfectly with the Gorjana Zuma Scarf I received in my Popsugar Must Have Box in June.
Happy Shopping and enjoy the weekend!