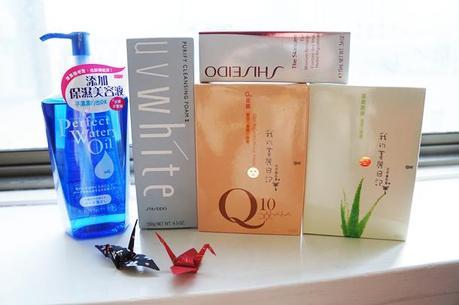 Hellooo, Happy Thursday peeps! The weekend is just around the corner again, yippee!! Today I wanted to share my shopping experience at Sasa and my mini haul. My experience with Sasa has been awesome, I did not encounter any problems at all. I placed my order on the 20/07 and it arrived at my door step on the 29/07. Shipping was free because I spent over $75USD, I always spend more just to get the free shipping haha. The packaging was packed very well, each item was bubble wrapped and the box was filled with polystyrene foam. In my opinion, the selection at Sasa is better than Strawberry net and the website feels more pleasant to look at.
Here's what I bought:
Shiseido Perfect Watery Oil $13.20USD – I've been loving oil cleansing a lot lately. I just happen to stumble across this and for $13.20, I thought why not?
Shiseido UV White Purify Cleansing Foam $27.40USD – I've been using Shiseido The Skincare Purifying Cleansing Foam for ages and thought it was time to try out other cleansers from the Shiseido range. As you can see I'm a big fan of Shiseido, it works very well with my skin type.
Shiseido The Skincare Eye Moisture Recharge $37USD – My current eye cream was running out and I've been on the hunt for a new eye cream.
My Beauty Diary Aloe Mask $13.60USD- I'm so excited to try out these new masks I bought. I haven't used paper sheet masks in like years!! Sooo excited.
My Beauty Diary Q10 Rejuvenating Mask $10.20USD - This face mask has 210 positive reviews on Sasa!! Anything with 210 reviews must be good so that's why I got it
Have you shopped at Sasa? My experience was so good that I'm already on the look out for more products to buy.
All items were purchased by me.