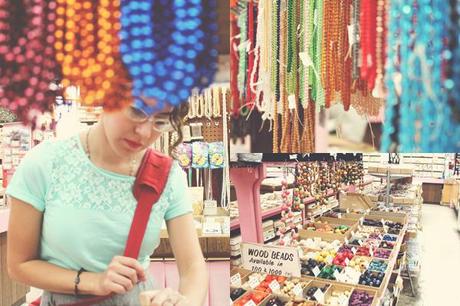 Even though I live in Los Angeles, I hate dealing with traffic. Which is why I rarely leave the west side. But the other day, cIf you've never been before, I suggest you make the trip one of these days, if only for the experience. You can buy so many things at very low prices, from fabric to beads to shoes to Italian suits to jewelry…you get the point. It's a fashionista's and a crafter's dream come true, if you knew what you were looking for. We came with a mission to buy some beads and chains to make jewelry and rosaries.


And we got distracted by shoes….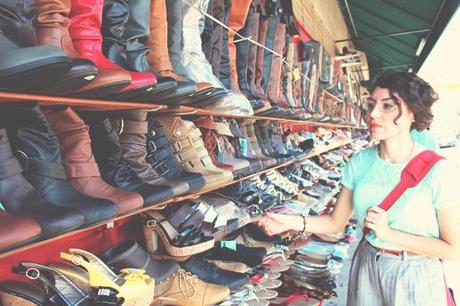 I got so tired I didn't take any pictures in Santee Alley, which is an alley way of small shops and booths. It was because I put the camera away to have two free hands to peruse the jumongous assortment of clothing, shoes, and accessories. We made a couple non-jewelry related purchases and went away super excited. And exhausted. But mainly excited, because of the cute clothes and shoes that are now in our possession.
Downtown LA is definitely a colorful and fun place to go. If you ever plan to shop at the Fashion District, I recommend planning for a whole day event. The good thing is, you can always stop to eat and refuel in Little Tokyo, Olvera Street, or even the hotdog stands (bacon wrapped hotdogs, anyone?)! So many options…so little time. Maribel and I are planning another trip within the next couple of weeks. This time, we will have a game plan, so we don't get so overwhelmed with everything! Time to go on Pinterest for some DIY-able jewelry inspiration!
Don't you just love exploring your own town?