Suited & Booted:
Well, booted at least...

First of all, let me offer you my utmost apologies for the lack of new content in EIGHT days! This last week until December 14th has been - and will continue to be - a little stressful and my focus will mainly be on my university modules, as my deadlines are in this time. In my Fashion Communication course, I don't have typical exams. Instead I have briefs and deadlines (which I prefer), but it still gets you a little stressed because it seems as though you have one million things to hand in at the one time. I've managed to get three of the four briefs finished and have another two weeks to focus on the last one, so thankfully that means I now have a little gap to write some new content for you all. I hope you can forgive me!

Is it just me, or have you brought those knee high boots out from the back of the cupboard too? The temperature has well and truly dropped in Newcastle (Glasgow too when I've been visiting for the weekend), so I have literally been living in my over-the-knee black suede boots for the last couple of weeks. I actually wore a pair of ballet flats today and wanted to shoot myself in the face after I took one step out the front door. My poor little tootsies. Anyway. Inspired by my moment of madness, I decided to do a little online window shopping to see if I could find a nice new boots, or pair of shoes that would bring me a little extra warmth this chilly festive season - and naturally I am now sharing my finds with you lovely people.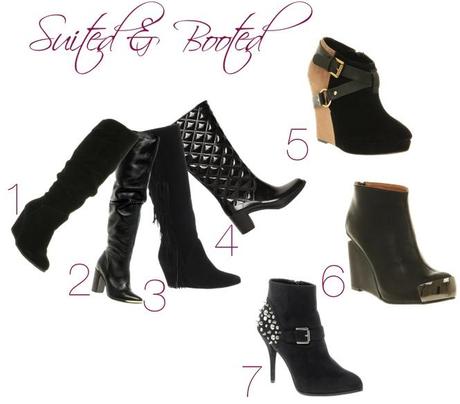 First of all, if you're reading this and thinking, "where are the party options Maria?!"  fear not! I will be doing a post dedicated to Christmas party attire, which will include everything from dresses to accessories and shoes, so remember to look out for that post if you're needing a little inspiration for your Christmas nights out this month. In the meantime, let's focus of the days in between!
I've tried to stick to boots which are of an attainable level (some readers may agree more than others. I'm a student for example), with some higher priced than others but mostly affordable and good quality. Boots are probably the only type of shoe that I would be prepared to pay slightly more for to ensure better quality, purely because I wear them during the colder months and want to make sure that they're going to last. With that in mind, here they are:
1. Gallivanting Slouch Black Suede - £95 @ Office 2. Long Leather With Metal Detail - £85 @ ASOS 3. Gardenia Suede Tassle - £220 @ ASOS 4. Marc Jacobs Patent PVC Quilted Boots - £162 @ Luisa Via Roma 5. Devils Point Wedge - £40 @ Office (£25 off! Also in black leather) 6. Delta Black Leather - £95 @ Office  7. Studded Heel Ankle Boot - £60 @ Faith/ASOS
Will you be purchasing any of the boots shown? I can't decide which ones to go for...either the Gardenia suede tassle boots from ASOS, Delta metal tipped toe wedge (hott) or the Devils point wedge ankle boots from Office. Actually, can I just have them all?