Buying a product over the internet instead of going to markets or stores is called online shopping. These days, it's become a trend and you can purchase almost anything online. Many people still find it convenient to buy their kitchenware from online instead of local markets. It is convenient, faster and sometimes gives better deals or discounts. It removes the barriers related to standing in a long queue, carrying shopping bags and more. People are finding it simpler, just to log on to a website and buy it. They can pay for it during delivery of the products at their doorsteps.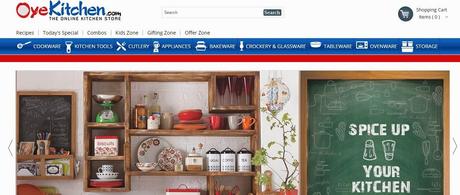 You can enjoy a perfect online kitchenware shopping experience with speedy delivery. Oyekitchen is among the leading online kitchenware stores in India. They offer a wide range of branded kitchenware, cookware, dinnerware, ovenware and more at reasonable prices. Oyekitchen.com is a one stop shop for all your kitchenware needs. Being India's largest e-commerce store for kitchenware and appliances, oyekitchen.com aims at providing a hassle free and enjoyable shopping experience to shoppers across the country. Any kitchen is incomplete without appliances and kitchenware that make our day to day cooking more comfortable and interesting. All Kitchen Appliances including ovens, refrigerators, blenders, microwaves, toasters, and more products available with great deals at your doorsteps. They offer the largest in-season product catalog containing over 10000+ products and over 100+ brands, 100% authentic products, COD facilities, EMI facilities, 30
days
replacement policy makes oyekitchen.com, the preferred shopping destination in the country. Currently they have a 24hour delivery policy for Bangalore city and aims to improve that through out India in near future.
Contact Details about OyeKitchen.com
Customer Service: 080-65655655
Email Address:
[email protected]
Website: www.oyekitchen.com
Enter your email address:
Delivered by
FeedBurner