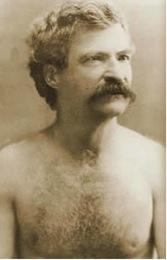 Mark Twain was a hairy dude.  We have always known this. His unruly shock of hair balanced by the tire brush of a mustache gave us all the information we needed. The man could grow hair. Now we all also know without a doubt hat he had one hairy chest. The image above has enjoyed (endured) a recent viral spread on the web. Type in "shirtless Mark Twain," and you will find somewhere around 137,000 hits.
The image has appeared in the last couple of weeks on npr.org under the title "Book News: Even Mark Twain Has A Shirtless Picture on the Internet":
http://www.npr.org/blogs/thetwo-way/2013/02/21/172553846/book-news-even-mark-twain-has-a-shirtless-picture-on-the-internet
The Daily Beast also includes the photo in a spread called "Shirtless Mark Twain and Other Naked Writers." It includes among others, by the way, Tennessee Williams and Ernest Hemingway (guess which one is holding a shotgun):
http://www.thedailybeast.com/galleries/2013/02/22/shirtless-mark-twain-and-other-naked-writers-photos.html
Likewise, The Huffington Post joins in with a short piece titled simply "Mark Twain, Shirtless (PHOTO):
http://www.huffingtonpost.com/2013/02/19/mark-twain-shirtless-phot_n_2720032.html
The story implies that the picture was discovered or revealed by Open Culture, a website dedicated to providing open-source educational content. The picture has in no way been hidden, however, and has been rather easily available. This recent run of online postings has nonetheless created a new and energetic life on the web that cannot be denied. It thus feels like a new thing for most viewers and a big surprise for most.
In the reader comments below the Huffington Post image, the depth of analysis seems rather typical:
"Anyone think he kinda looks like Mario?"
"Looks like Tom Selleck in the video pic"
"Pretty decent bod. Harkens back to the day when people walked everywhere, chopped their own wood and did many other physical labors that we no longer feel the need or don't have to do any longer. He probably didn't go to the gym every day."
That's true, Twain rarely went to the local Gold's Gym more than two or three times a week. But I do agree that Twain did chop wood for his family at the log cabin in Hartford, CT. That experience helped him to create an appealing public persona that would later be crucial to his election as President of the United States, you know, the one that starred in that recent movie. But I digress.
If you wish, you can even follow "Shirtless Mark Twain" on Twitter @ShirtlessTwain.  And, of course, I do. Shirtless Twain even knows one of his own best quotes: "Clothes make the man. Naked people have little or no influence on society." Twain, the real Twain (well, that's a dicey phrase), did  indeed have much influence on society, but it remains to be seen how this new topless image will affect his legacy. The shirtless Twain may have a shorter lifespan in this fickle age. Alas, Shirtless Mark Twain has but 44 Twitter followers. Now 45.
Still, this renewed interest has a cause beyond the hint of scandal or humor implied by the photo itself. Although many people are surprised by the existence of an image that would have been considered inappropriate for its time, we also respond to how the image captures one of the things Americans love most about Twain, his subversion. The image, for modern readers, carries a hint of boyish humor and mischievousness, those traits that are beloved in Twain through Tom Sawyer. But the image also carries with it his other side, the one that sought respectability. The photograph was taken as Twain was modeling for Karl Gerhardt, who would use the image to help him sculpt a bust of Mark Twain, a photograph of which would appear as the frontispiece for Adventures of Huckleberry Finn. So the subversive image is also inextricably tied to an effort to assert respectability via a work of art–the bust and, as it turns out, also the novel. For more and better information on the history of the Twain's relationship with Gerhardt, check out John Bird's excellent article, "Mark Twain, Karl Gerhardt, and the Huckleberry Finn Frontispiece," in American Literary Realism, Vol. 45 (Fall 2012), 28-37.
For my space here, I am most interested in how the shirtless Mark Twain can be a useful way to spark discussion in the classroom about Twain's public persona and legacy. In fact, I just recently included the image as part of an exam in a course called "Mark Twain's America/America's Mark Twain." The students had not seen the image beforehand (as far as I know), and I paired it with another photograph.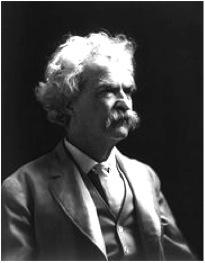 The Man in White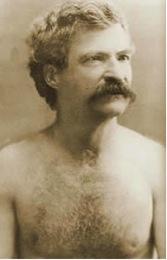 The Man in Chest Hair
I believe the pairing will allow students to explore the complex imagery associated with Twain (Clemens and "Mark Twain") and reveal how they can apply much of what we have been talking about so far in the course. I haven't graded it yet because I am immersed in all these shirtless Mark Twain images and writing this piece. But I can report with enthusiasm that the students have done a remarkable job anyway (in the profession, this is called "priming" for success; it is a justifiable way to delay grading). How could they miss? Twain worked diligently to create a public image that would encourage an audience that would embrace both of these images. He counted on our desire to admire the Lincoln of our Literature dressed in formal attire and our equally strong desire to be able to think of him as perfectly comfortable posing without a shirt as well.
So, I say teachers and students of Mark Twain should embrace the new round of interest in Twain and his hairy chest. This can be an opportunity to celebrate that people remain interested in the man and his work and that he remains at the center of our cultural and literary heritage, with all its contradictions. We should celebrate his subversion and his respectability as our own.  And I can think of no better way than by joining him symbolically. We are all Mark Twain in one way or another, aren't we?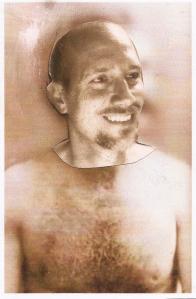 A formidable technical achievement showing solidarity with Mark Twain