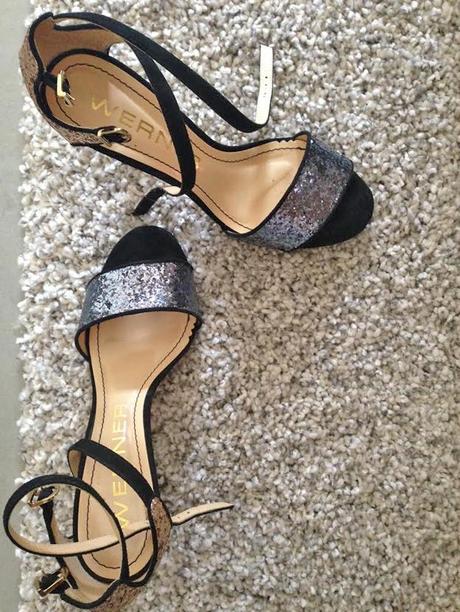 Diamond powder that you can buy without thinking a lot;
Fragments of light that does not fade away when the sun goes down and the darkness of the night surrounds us;
Small frivolous light grains that make us feel alive.
For someone glitter is definitely #toomuch, for others like the small lights of Christmas.
Some can start thinking about Barbie and others about a Sex and the City episode.
If you write the word glitter on google the first image that comes up is "I eat glitter for breakfast, lunch and tea."
Walking through a sunny and semi-deserted Naples I couldn't avoid stumbling nicely on a bunch of golden, black and deep blue glitter.
As dancing shoes, as a dream of a midsummer night, as a story that begins and who knows where it will take you I bought these high heels sandals.
They are made ​​in Brazil by Werner and it is as if they carried inside all the joy and the rhythm created by the music and by the light of the sun.
❤︎
Polvere di diamante che puoi comprare senza pensarci troppo; 
Frammenti di luce che non svaniscono quando il sole va via e il buio della notte ci avvolge;
Granelli frivoli e leggeri che ci fanno sentire vive.
Per qualcuno i glitter sono decisamente #toomuch, per altri come le luci che ci illuminano a Natale.
A qualcuno fanno pensare a Barbie e a altri a un episodio di Sex and the City. Se scrivi glitter su google la prima immagine che esce è "mangio glitter a colazione, pranzo e te".
Passeggiando per una Napoli assolata e semi deserta non ho potuto fare a meno di inciampare piacevolmente su una mangiata di glitter dorati, neri e azzurro intenso.
Come le scarpe di una ballerina, come un sogno di una notte di mezza estate, come una storia che inizia e chissà dove ti porterà ho comprato questi sandali.
Sono made in Brazil ed è come se portassero dentro tutta quella gioia e quel ritmo creato dalla musica e dalla luce del sole.