Book: Shield of Winter by Nalini Singh
Genre: Novel
Publisher: Berkley Books
Publication date: 2014
Pages: 431
Source: Won as a giveaway from Bad Ass Book Reviews. Thanks, D.G! I loved getting to read this before the paperback came out.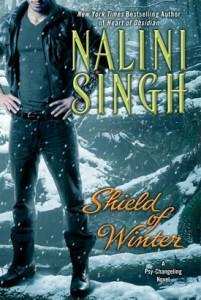 Book #13 in the Psy-Changeling world
Summary: The race of psychically-connected people known as the Psy is in turmoil now that the century-old practice of restricting emotion has been overturned. The empaths are needed, their value suddenly understood, to help people cope and to combat a mysterious virus in the PsyNet. The job of protecting vulnerable empaths goes to the Arrows, the brutally trained soldiers of the Psy. Vasic is an Arrow, Ivy is his assigned empath. Together, can they find solutions in the upheaval while discovering more personal passions?
Thoughts: I adore the Psy-Changeling world, completely hooked after the first two books, Slave to Sensation, where an empathic Psy falls in love with a changeling leopard, and Visions of Heat, where a future-telling Psy pairs with a changeling jaguar. For me, a peak of this series was four books ago, Kiss of Snow, the story about the alpha of the changeling wolf pack and his formerly Psy mate — a passion that had been building up for several books. You can probably tell that my favorite books in the series are the ones that bring the two races clashing together, with the female and male leads from the two different cultures.
Shield of Winter, like the previous book, Heart of Obsidian, features Psy characters in the male and female leads. That's where all the interesting stuff is happening right now in this world, so that makes sense. I admired Heart of Obsidian for taking an unlikable male lead and turning him into hero material, but I didn't enjoy it as much as some books for the same reason. Shield of Winter turned out to be much more pure fun — both the hero and heroine are characters to root for, acting the best they can in unprecedented circumstances where experimentation is the only thing that has a chance of saving the day.
Appeal: This is a series that deserves to be read in full, from the beginning. If these books sound good to you, start with Slave to Sensation. You won't regret it.
Reviews: The joint review by Janine and Jennie on Dear Author contains a much more detailed run-down of characters and plot, followed by a thorough dialog (with some spoilers) between the two reviewers, and it produced a vibrant conversation in the comments. Fiction Vixen also had a joint review, this one featuring Angela and Jen who put Shield of Winter in context with the other books in the series.
Veena and C2 didn't write a joint review, but they each wrote a review on The Good, The Bad, and the Unread, a week apart. Both of them liked Shield of Winter as much as I did.
And, of course, don't miss D.G's review at Bad Ass Book Reviews where I won my copy.
Have you read this book? What did you think?