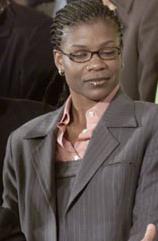 Image via Wikipedia
07/20/2011
WNBA star, Sheryl Swoopes in an interesting turn of events decided to let the world know (or the ones that follow her on Facebook) that she is officially off the market. In most cases, that fact shouldn't be enough to give one pause but Swoopes best known for being in a long-term partnership with a woman has decided to marry a long time male friend.
Mechelle Voepel of ESPN discussed Swoopes in published earlier this month.
Yet when Swoopes' agent mentioned to me last fall that Swoopes was "in a different situation" now, it wasn't difficult for me to guess what she was referring to. Swoopes was no longer in a relationship with a woman. She was in a relationship with a man whom she'd known for some time.

Swoopes didn't seem to want to have — for lack of a better way to put it — a "coming out as straight again" interview. She wasn't renouncing homosexuality or saying she wished she hadn't said what she did in 2005. But the fact remained that she was no longer in a same-sex relationship.
Is it really surprising? Not really, Swoopes was married to a man initially when she first entered the WNBA, only dating a woman once she officially divorced. Even with that, she didn't take the "lesbian" label to heart, insisting that being gay for her was "a choice," while at the same becoming the spokeswoman for Olivia cruises.
However, there has been a slight uproar within the LGBT community. With Michele Bachmann and her husband constantly stating that being gay is "a choice" having someone like Swoopes switching teams – yet again – is adding more fuel to the hate-filled fire that they like to spew.
Either way, we like to express our congrats to Swoopes and her fiancé.