I think that everyone like seashells. Maybe because they come from places that we've not explored, they seem somewhat exotic. As a child we went camping a great deal and living on the coast we had trips to the seaside, so it was inevitable that I accumulated a vast collection of shells. Now the shells that I retrieved from the west coast were quite unlike those found on the east. At that time I wasn't sure why but now I know a bit more about the Gulf Stream Drift and the different seabed environments.
  To this day when I walk along the seashore I must pick up and examine the shells ( always pocketing one or two ). So I have a small collection in a flowerpot. however this small amount bears no relationship to the vast collection I had as a child. Using old 'chocolate' boxes I stuck my shells in and named them, then covered with plastic. These were stored under my bed ( along with the pupating caterpillars  in shoe boxes ! ). Possibly my mother wanted them all cleared out and so my collection went to the science department at school.
  Last year I walked down to the beach at Stranraer and it was composed entirely of cockle shells....millions upon millions washed up. I just sat for ages looking at them and pondering their life before they were cast ashore.
  My poem this week was written at a workshop where I had to delve into a box , and without being able to see ( being blindfolded ) , extract an object , then still being blindfolded had to describe what I felt. So this is it ....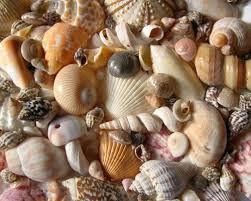 Unseen Shell
          A worn winkle, color unknown.
         Thin now with the wearing of the sea and sand.
         Empty --sounding hollow when I tap.
         Feel the sworls - the internal spiral
         Going to a soft point
         Where once a gentle creature lived,
         Secure upon a rock - holding tight.
         Gone now, lost to the sea
         Whilst it's home lives on
         As I tap, tap, tap.                  
Thank you for reading, Kath
Email This
BlogThis!
Share to Twitter
Share to Facebook
Reactions: