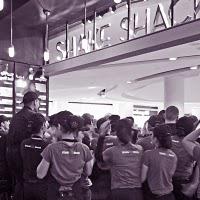 When someone in my group of food-obsessed blogging friends started jumping up and down about a burger joint called Shake Shack, I had absolutely thought that she meant Sheikh Shack. I pictured this majlis-style hot spot with a swanky modern take on the Bedouin tent. An elite place for the wealthy local Dubai males to loiter, with a gorgeous Amazon on the door only allowing beautiful women and men in white past the velvet rope.
I mean, really, why on earth would she be so excited about a milk-shake store?
By the the time she (Iliveinafryingpan) started talking about portobello burgers, I realized that was exactly the kind of restaurant she meant, and it would be opening in our very own Mall of The Emirates. In New York, the place is so famous that she queued for an hour in the snow to wait for one of these burgers. I think anything would taste amazing after waiting an hour in the snow - your brain would be making your body think it tasted incredible, because otherwise your body might just rebel against it, and walk your crazy brain to the nearest mental institution and commit it.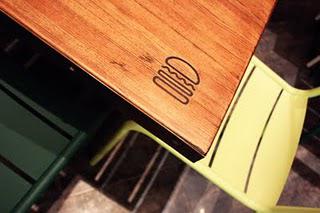 So I started to get excited. And as a group (www.tabletalk.me), we all got excited. We were all going together, we'd been invited to this opening as a group - so not only would be be among the first in, but it would be free, and we would be surrounded by piqued palates and like-minds. It would be a food-talking fiesta. This was going to be one hell of a burger kitchen. I mean if people queued for hours, then it was going to be special. Those portobello burgers sounded gourmet. I dressed up.
I wish I'd worn jeans.
Possibly it's because of the hype. But I was disappointed - Shake Shack is a burger joint. It might be famous in NY City, but here, it's just one step above Burger King. But maybe I'm being too harsh. The burgers were great - I ordered my own and nibbled on companions choices, and all were good.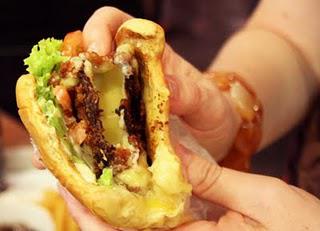 I had the portobello burger, affectionately termed the "shroom". When I went to the counter to order, I felt like a college kid again - in Australia, the term "shroom" refers to Magic Mushrooms, the halucinogenic kind of things Alice munches on with her pipe smoking caterpillar friend in Wonderland. The shroom didn't dissapoint - fortunately it was not filled with psilocybin, but with a combination of particularly drippy cheeses. It was bread-crumbed and deep fried before being sandwiched with lettuce and tomato, and was not particularly earthy or mushroomy - which in any other dish would be a downfall, but in a burger, where it needs to be a meat replacement, I think that's exactly what you need. It's well done.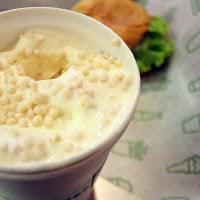 The shakes are disgustingly thick sweet concotions they call "concretes" made of frozen custard. As an owner of an ice-cream maker, I can tell you that nearly all ice-cream is a form of frozen custard, so that basically translates as a pint-cup of almost-soft-serve ice-cream. Calories. Sugar. Fat....Kids will love it. I am never, ever, ever, ever allowed to touch that kind of thing, especially the chocolate/peanut butter mix. I did however try a root beer - my first ever. And I'm sorry, probably my last. I know many people love it, but if I want a drink that tastes of medicine and soap, I'll have a glass of wine. (Shake Shack MOE is unlicensed)
They didn't have the chicken hot-dogs on the opening night, but they're on the way - a sage-infused sausage served with pickled peppers sounds pretty good to me. But I did try the Chicago Dog, which was fairly good as far as hot-dogs go, but really, just a hot-dog.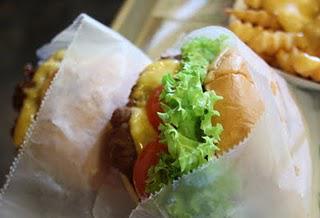 What else do I say? For me, a burger is a burger. Unless it's a "shroom", I guess. I had a quick chat to the chef, and think I might give it a go at home - I see it on a breakfast plate alongside a tomato and basil salad and a slab of wholemeal toasted sourdough - it is really, a very clever little snack.
And will I go back? Of course. As much as I hate to admit it, even a gourmet like me needs to eat fast food every now and then. And they are the best burgers I have tasted in Dubai (except my own) and those concretes will be a great bribe for kids on school holidays.
Leave me a comment and make my day...