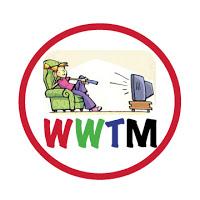 THE ANSWER TO WEDNESDAY'S TRIVIA QUESTION: JR, SueEllen, Christopher, Pamela and Cliff Barnes all live and work and are the main characters on Dallas FIRST FIVES: Sue MacNamara, Mike O'Dea, Bob Kaplan, Priscilla Paez & Karen Feldman HONORABLE MENTION: James Gabriele
THE NUMBERS 
Tuesdays Broadcast Top 5
America's Got Talent-NBC 2.4/10.6
Food Fighters-NBC 1.3/4.7
Extreme Weight Loss-ABC 1.1/3.7
Celebrity Wife Swap-ABC 1.1/3.0
NCIS-CBS 1.0/8.4
Tuesday's Cable Top 5
American Dad-Adult Swim 1.1/2.3
Haves and the Have Nots-OWN 1.0/3.4
Deadliest Catch-Discovery 1.0/2.7
Big Bang Theory-TBS .9/2.2
Rizzoli & Isles-TNT .9/4.7
Tuesday's Twitter Top 5 Primetime Ratings 
Pretty Little Liars-ABC Family 214,000 Tweets
Bad Girls Club-Oxygen 79,000 Tweets
America's Got Talent-NBC 60,000 Tweets
Finding Carter-MTV 51,000 Tweets
Dance Moms-Lifetime 28,000 Tweets
THE SHOWS 
Big Brother
Zac was torturing the Have Nots and getting on everyones nerves, but…I still enjoy him

I can't believe the Germatard is over…sad to see it go

Hayden reminds me of Wyatt from the Fosters which I've been secretly binge viewing

Nicole thinks Victoria and Hayden were hooking up? Really? Can you say clueless? 

Derick's Grandfather also passed away? That's 2 so far, what are the chances of another, you know how everything comes in 3's.

RIP Grandpa Pepe

Ugh…Caleb is STILL on his Amber kick. ENOUGH ALREADY!

JOcasta and Victoria are SO out of the loop and also part of the clueless club that they have no idea they aren't targets 

Zac and Frankie sleep together BY choice, Zac pets Frankie to sleep every night and says "I Love You." How is he NOT gay? 

Is it B Smoke Cowboy or Beast Mode Cowboy and either way what does it mean? 

Who thought of this Veto competition? Gallop, get gold bars and stack um, Gallop, get gold bars and stack um. Gotta say, Frankie seemed to ride that bull well.

Jesus is laying his hands on JOcasta's blocks but she wants his hands on her? She's out of her mind.

Frankie said it just as I was thinking it...everyone's nether region during the POV challenge had to be in PAIN

According JOcasta, Jesus AND Satan's were both present...in the BB house and in the same episode. Why can't either one help her get a clue and play the game better

I saw London, I saw France, I saw Frankie's underpants! 

Zac is such a sh*t stirrer. Everyone in the house may hate it...not me. 

Add Caleb to the clueless club. He thinks he runs the house and he so doesn't. Wait til he AND his woman are double blindsided tonight. Just wait.

Zac's speech didn't work for the America's team challenge BUT it was classic

Didn't Caleb look like he was going to cry when Amber was put up? OY He'll be crying tonight.
Sharknado 2
Sharks on planes, sharks on trains, sharks on boats, sharks at Citifield, sharks in a hospital, sharks in a hotel, sharks in a pizzeria, sharks in the air, sharks on land and of course, sharks on Broadway. These sharks were bigger and meaner and ripped a lot more people apart. Still ridiculous, still hilarious. Ian Ziering, aka, Finn along with his sister, brother-in-law Mark McGrath, Vivica A. Fox and a super skinny botoxed Tara Reid, saved NYC from peril. Tons of running and when legs weren't enough…Citibikes! Finn literally "Jumped the Sharks" in a Frogger like escape from Judd Hirsh's taxi. He sliced them up with a chain saw, shot them up with guns, blew them up with Freon and then for the best ending of an intentionally bad movie, he found an arm with engagement ring inside a shark and proposed to his anorexic botoxed freak. Come on…CLASSIC CHEESYNESS!  
Loved the tweets, the body count, all of Al and Matt's weather reports,Gelman getting eaten and of course...the cameos. Kelly Osbourne, Robert
Hayes (in a great Airplane opening), Will Wheaton, the Naked Cowboy, Andy Dick, Downtown Julie Brown, Kelly & Michael, Billy Ray Cyrus,  Richard Kind, Perez Hilton, Jared the Subway guy, Robert Klein, and an unrecognizable Judah Friedlander (if you know who he was in the movie…10 points) if I missed any, let me know. So bad and yet SO good.
THE OTHER STUFF
-Allison Williams may bug the sh*t out of me on Girls, but I gotta say, I think she'll make a decent Peter Pan! We know she can sing, she's tall and skinny and hopefully she can fly. Plus she has the coolest Dad in the world. I'm good with this one. 
-Okay, production on The Big Bang Theory has officially come to a halt. The gang is using the Friends negotiation strategy and at this point, they're still not at work. We know they'll come to some sort of an agreement, I think I said 750K an episode and I'm sticking with that number. Let's see where they net out. 
-I read somewhere yesterday in one of my news feeds that 94% of people skip the YouTube preroll ads. I knew I did that, I assumed a lot of people also did BUT 94%? Wow! Wonder what YouTube has to say about that one.
Thursday's Trivia Question
: Alan Shore & Denny Crane starred in this legal drama. 
WWTM-Kristy
Like me on Facebook at Watching Way Too Much
Follow me on Twitter at watchingwaytoomuch@tvnme
http://watchingwaytoomuch.com
[email protected]