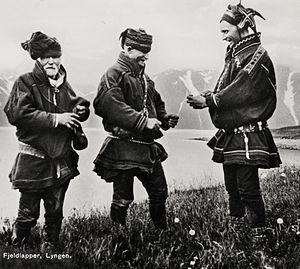 English: 1920′s Three Sami men are exchanging Tobacco in Lyngen, Troms, Norway. Tre samiske menn bytter tobakk i Lyngen, Troms, Norge. Read more in Saamiblog: http://saamiblog.blogspot.com/ (Photo credit: Wikipedia)
Today's quote is old and it comes from A.S. Gregg
(I figure it's old because it uses the word shilling which I've replaced with dollar) however it is wonderful none the less –
It's also a great way to think about ideas which is our theme:
"You have a dollar. I have a dollar. We swap. You have my dollar and I have yours. We are no better off. But suppose you have an idea and I have an idea. We swap. Now you have two ideas and I have two ideas. We have increased our stock of ideas 100 per cent."
The call today then is not simply to have ideas – which when we open our minds and do a little thinking pop up more and more often –
The idea for this day is to share your ideas – which will increase your stock of ideas 100 per cent –
That's an awesome return any way you look at it!
You Create Your Day by the way You Think! Be Present!
Go make it a Magnificent Day!
Blessings, Shawna