Burning up like neon lights the mega-city of Shanghai, China took me for one hell of a ride during my visit! Serving an almighty culture shock I took every moment as one crazy experience during that weekend. Introducing me to China life this Chinese city presented a serious serving of electric love from the Bund. You know that I was looking for a Shanghai Surprise!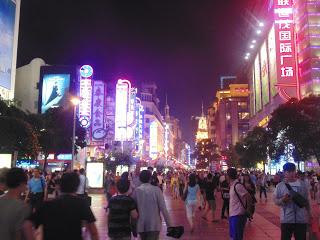 As my taxi drove closer to Shanghai's city center it didn't feel real that I had arrived in China, it was finally happening! It was a hazy night but there was no mistaking the surge of development that this gargantuan city had already seen but a series of building sites passed me by. I had no clue where I was going but I knew what the road name was called that my hostel was supposed to be, my driver didn't speak a shred of English and my level of Chinese was appalling so it wasn't hopeful. After a crazy series of events I made it to my hostel, I needn't of worried about getting lost because I had found a corker! Let's just say I was in for the experience of a lifetime, I was in the city of a million lights so any mishap had to step to one side because it was my time! Leading to a messed up sleep pattern I woke at 6pm that evening, getting my jet lagged self looking decent I left my hostel for the streets of Shanghai B!
Navigating the side streets from my hostel that was close to People's Square was confusing, I was hungry so sustenance had to be found! Getting acquainted with a unassuming looking noodle cafe I was sold, being the only foreigner in sight I could tell that the food would be a wise choice. My first meal in China ended up being a beef noodle bowl that was garnished with some leafy vegetable, I wolfed the noodles down without a thought for I only spent £1.50 or something crazy?! Nanjing Road stopped me in my tracks, a rich display of neon signs faced me. Knowing how to act I made my way through the crazy of that mega shopping street, I was slightly bewildered by the madness but knew it felt real to me! I saw Marks & Spencer's from the corner of my eye but I was all about the Chinese symbols that were shining in so many different colours. From my midnight madness and lack of sleep I tried my best to take in the sights, were those women dancing to techno in the street?! Oh, yes!

Nanjing Road led me to one of the main reasons why I decided to spend a few days in Shanghai before training in Suzhou. Famous for its towering skyscrapers I was transfixed by the light display on the Bund, getting to the front of the crowd to take the perfect photo took some going but I always get what I want! The Oriental Pearl TV Tower looked even better in real life, Shanghai knew that I had arrived in town! It was one of those moments when you've got to stop everything for at least two minutes, thank goodness my camera didn't fall into the water because I was to engrossed with the view! I was learning fast that Shanghai is a city for the night-time with its electric love and neon scene I was sold! Everything was so cheap, a bottle of ice tea could be bought on the Bund for literally pennies. Shanghai was surprising beyond any means, this dazzling city made New York City look sleepy! NYC, take a nap boo!  
Turning my head away from the waters of the Huangpu River I saw a string of regal looking buildings line that Shanghai riverside, resembling the grand port buildings of Liverpool's Mersey front I was sort of taken back to Liverpool for a brief second. Missing my chance for a Bubble Tea from Happy Lemon in London I wasted no time by getting one during that Shanghai night! Nanjing Road and the Bund had showed me enough for one night so I went back to my hostel, well once I found it! Family Mart became my best friend, I never knew how that place would be such a big part of my first two weeks in China. Getting to grips with the streets of Shanghai wasn't bad, revisiting the same street when the darkness of the night faded I automatically knew where I'd previously been. Shanghai threw shade on me in other departments but those factors really didn't matter, it added to the major culture shock I was being exposed to. Shanghai's nonstop persona had me crazy!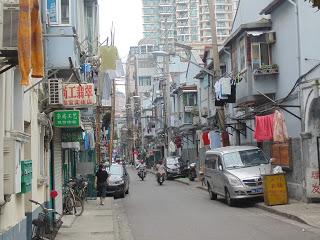 Away from the twilight and hoards of people I spent some time in Shanghai being half responsible, I hadn't come to China for a jolly so I needed to sort a few things out closer to my hostel. I needed a Chinese mobile sorting, the one my mom had given me did not want to work in China and I was half worried about the roaming charges that could be incurred. China Mobile secured me a new phone for £70, including two months of data. The area around my hostel embodied a normal Shanghainese neighbourhood vibe, no bright lights needed to shine around those parts because it served normality. Finding another super cheap noodle shop I continued my cost conscious crusade in Shanghai, China. Going off the beaten track I found a shopping district of a different kind, fashioned in a traditional Chinese style I could of been in a film. Seeking refuge from the rain I chilled with some hot Oolong Tea. 
Shanghai was teaching me that when the heavens open in China, the rain just keeps on pouring until its good an ready to stop! After revisiting Family Mart for the umpteenth time I found a street side cake stall, that was selling all manner of cakes and bakes I bought a Durian fruit cake and some other strange Chinese sweet treats. My final afternoon and evening in Shanghai panned out really nicely, taking it easy I stayed at my hostel with a few beers from Family Mart. As my time in good old Shanghai drew to a close I decided to ditch the hostel for a budget business hotel that was one stop on the metro away from Shanghai Pudong International Airport, I would be meeting with my prospective English teaching company so I wanted to recharge my batteries before getting to Suzhou for training. Shanghai had shown me something different, I had never before been to a place so berserk or captivating before! You haven't seen the last of me Shanghai! Another surprise, please?
Marry The Night!
Joseph Harrison