Vettel heads Button in Saturday's final practice session
Sebastian Vettel also dominated the third and final practice session of the Chinese Grand Prix. Again it were the McLaren drivers who came closest to the speed of Red Bull with Lewis Hamilton in third, 0.405 seconds behind Button (+0.208).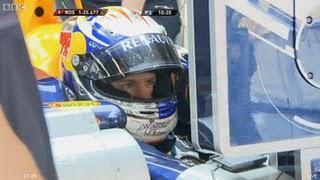 Sebastian Vettel studying data
Due to KERS related issues Mark Webber drove five laps only and was almost two seconds adrift of his teammate. Red Bull have two hours at their disposal to sort the problem out for qualifying. It is possible that Red Bull decide to go without KERS, as they already did in Melbourne.
Mercedes' speed on Friday afternoon does not seem to have been a flash in the pan after all. On Saturday morning Nico Rosberg was only 0.709 seconds behind Vettel in forth place, Schumacher was down in nineth (+1.173).
Ferrari might find it difficult to be on the front row for Sunday's race. Fernando Alonso and Felipe Massa were about a second slower compared to Vettel.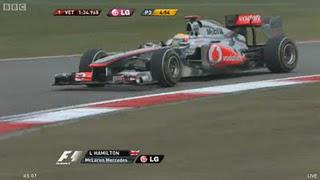 McLaren is in good shape in Shanghai
The difference between the prime and the option tyre seems to be around a second, Vettel's fastest lap on the prime tyre was a 1:36.053.
The slowest cars on Saturday morning were the two Hispanias, but the team will be happy that both drivers seem capable of staying within the 107 percent rule, which in practice three would have been a time of 1:41.616.
Saturday Practice - final results
Pos.DriverNat.TeamTimeGapLaps
1Sebastian VettelGermanRed Bull1:34.96813
2Jenson ButtonBritishMcLaren1:35.176+0.20815
3Lewis HamiltonBritishMcLaren1:35.373+0.40514
4Nico RosbergGermanMercedes1:35.677+0.70918
5Fernando AlonsoSpanishFerrari1:35.818+0.85017
6Felipe MassaBrazilianFerrari1:35.971+1.00315
7Vitaly PetrovRussianLotus Renault1:36.098+1.13018
8Adrian SutilGermanForce India1:36.125+1.15715
9Michael SchumacherGermanMercedes1:36.141+1.17314
10Paul di RestaScottishForce India1:36.370+1.40218
11Nick HeidfeldGermanLotus Renault1:36.404+1.43616
12Kamui KobayashiJapaneseSauber1:36.582+1.61418
13Sergio PerezMexicanSauber1:36.596+1.62817
14Sebastien BuemiSwissToro Rosso1:36.717+1.74916
15Mark WebberAustralianRed Bull1:36.896+1.9285
16Jaime AlguersuariSpanishToro Rosso1:36.953+1.98514
17Rubens BarrichelloBrazilianWilliams1:37.007+2.03920
18Pastor MaldonadoVenezuelanWilliams1:37.304+2.33618
19Heikki KovalainenFinnishTeam Lotus1:38.176+3.20812
20Jarno TrulliItalianTeam Lotus1:38.739+3.77112
21Timo GlockGermanVirgin1:39.938+4.97017
22Jerome D'AmbrosioBelgianVirgin1:39.998+5.03016
23Vitantonio LiuzziItalianHispania1:40.593+5.62517
24Narain KarthikeyanIndianHispania1:40.881+5.91318

Related Articles
Shanghai - Practice 2

Shanghai - Practice 1

And the Winner Is...

Hamilton or Button?

Estimated Pecking Order for 2011
You can have a look at the archive for a list of all articles